An adorable blind kitty named Quirky, adopted by San Juan, WA resident Vicky Giannangelo, stars in a series of cute YouTube videos and has his own Facebook page.
He enjoys life with the Giannangelo family and their other cats.
Vicky tells his story at Facebook:
Quirky the Blind Kitten – Quirky is a kitten blind from birth. The local shelter asked if we would adopt him when he was 5 weeks old and we did. He is way beyond cute. Watch him as he grows up and learns about his world.
Just because a kitten is blind does not mean he cannot live a pretty normal life….! He plays, eats, and uses the litter box just like the other kitties. We have declared that he was born on July 23rd, 2013….he was found in the woods with his sister near the San Juan Island dump and brought to the local shelter. He was almost put to sleep because he was blind, and had head shakes. He has outgrown most of the head shaking, but when he in intent on something, you can notice a little quivering. Sometimes he gets really scared for no reason, cowering, hissing, growling, and freaking out until he is picked up and held. A loud noise sometimes sets him off. But, they are happening less and less. He is a very happy kitty and really navigates well… he will run his ears along a wall until he knows where the doors are. Sometimes he runs into the wall at a full run when he is playing with another kitty, or running around too fast. He still does not know he is supposed to lick his furs or his hind end…but we give him little wipes now and then. He is pure joy.
Quirky the Blind Kitten at Facebook
.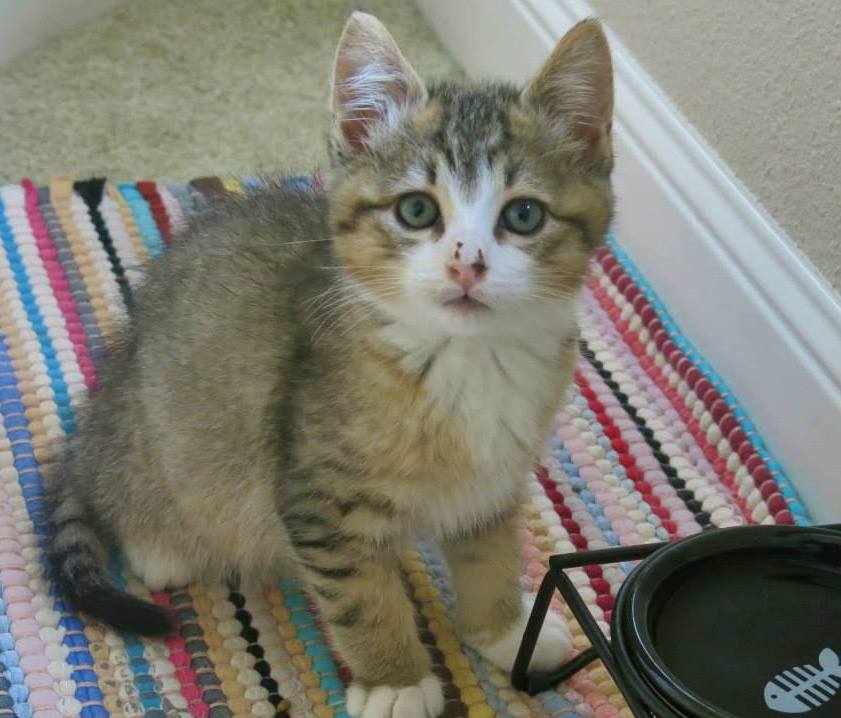 .
Here is a selection of Quirky's videos, beginning shortly after he was adopted as a 5 week old kitten and going up to an entry from earlier this month.
Quirky the Blind Kitten: I can't see anything but I'm having a really good time..!
Blind baby kitten's first day home from the animal shelter – Lesson One: learning how to play. He is 5 weeks old.
.
Quirky the Blind Kitten is fearless….and just happy….
He runs, he hops, he crashes into the wall…. he is awesomely cute…and almost 7 weeks old….
.
Quirky the Blind Kitten Finds the Big Cats Litter Box
Quirky the Blind Kitten found the big cats litter box, but he is too little to get back out…needs help until we buy more cat litter and fill it up a bit more…
.
Quirky the Blind Kitten dot chasing with others…
I am 13 weeks old and the other cats are chasing the dot that I can't see…but I follow them all around pretty good…its fun….!
.
"There has to be something up there, and i'm gonna get it"
Quirky the Blind Kitten often hops up into the air at nothing at all, hoping to get something.
.
Quirky the Blind Kitten Conquers the Ramp
…since Quirky is blind, he did not know how to jump up onto the tall bed…and he would just fall off. Now he is all set and ramped up for getting up onto the bed….! And back down…
.

Quirky the Blind Kitten – The Joys of Catnip…!
Quirky has learned to play with the little bag of catnip….he loves it and wants it all day….!
.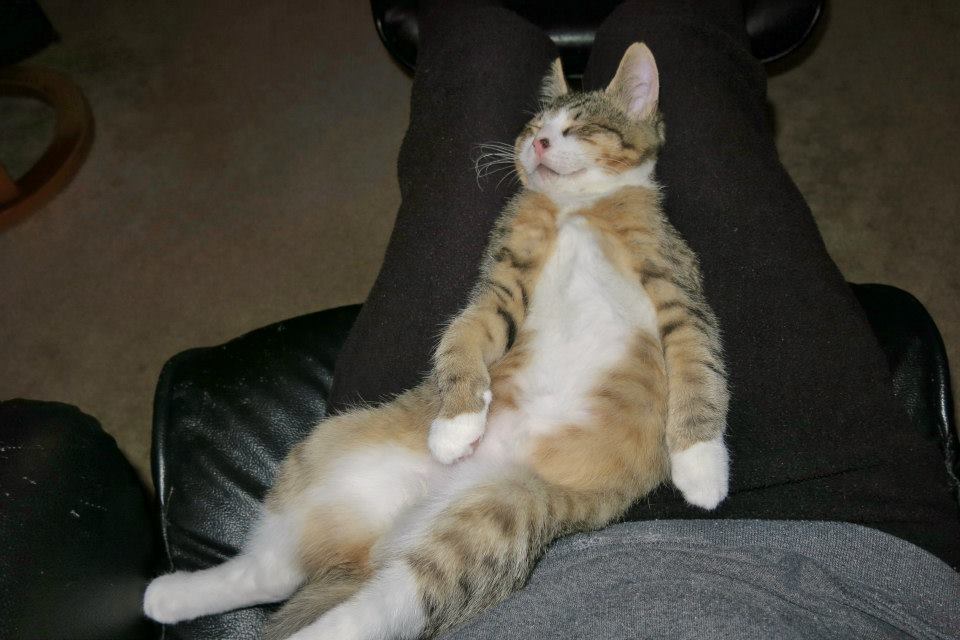 .
.