The Octavio Feline Foundation of Miami, Florida posted at Facebook today looking for support – signatures and sharing – for a petition asking that a West Miami resident be allowed to keep his 9 senior cats, who are all well cared for and up to date on their veterinary care.  The city wants Hans Perez to get rid of 6 of the cats in order to comply with a local ordinance mandating a 3 cat limit.
Despite the best efforts of rescuers, volunteers and some staffers, Miami-Dade County has a very high shelter kill rate for cats, and the Perez cats, if taken from their home of sixteen years, have little chance for survival at the shelter.
According to the Octavio Feline Foundation's Facebook post, this is just one example of a greater issue in West Miami.  They write: "Folks we are having numerous problems with the City of West Miami, their elective officials are cat haters and wants to eliminate all the cats in the city, we are not going to tolerate that and we are fighting with several complains and situations in this "city"."
Here is the link to the petition: Allow Hans H Perez to keep all of his 9 cats
The petition's overview reads: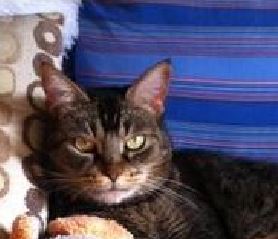 Mr. Perez is the guardian to 9 cats that he's had for 16 years. They are all fixed, clean, happy, up to date on their vaccines and registered with Miami Dade County.
Now the City of West Miami FL is asking Mr. Perez to get rid of 6 of his cats and follow city code that only allows 3 cats per household; even though there is no such code for the County.
These cats are senior cats that require special care and diet that is being provided by Mr. Perez. They will not survive as outdoor cats and if taken to Miami Dade Animal Services they will not be put up for adoption due to their age. The kill rate for cats at the county shelter is 90% and owner surrenders do not get any time.
An Animal Control Officer for Miami Dade County investigated Mr. Perez's residence and found that he is a responsible pet parent and within County Code. He has provided references from his Vet and neighbors but yet The City of West Miami has given him until the 1st of May to remove the 6 cats or be fined $25.00 daily. They want to remove these cats from the only life they have known for the past 16 years and send them to what will most likely be their death at the County shelter.
Mr. Perez has been a citizen of West Miami for the past 20 years, 16 of those years with his cats. Please allow Mr. Perez to continue caring for his cats.
Do not punish Mr. Perez and his cats and contribute to the problem the County shelter faces daily with the intake of animals ( In 2002 30,640 animals were abandoned, and in 2010 36,000 were abandoned. Due to the increasing intake rate the number of animals destroyed does not decrease, it stays at approximately 20,000 per year.
Petition author: Carolina Araica
Target: City of West Miami FL, Chief Code Enforcement Officer Juan Pena, Mayor Eduardo H Muhina and City Manager Yolanda Aguilar
Organizers and supporters would appreciate it if you would sign and share.
Petition link: Allow Hans H Perez to keep all of his 9 cats