Outgoing Norwich CT mayor Peter Nystrom is being thanked for his good-heartedness and good citizenship after he found an injured cat, called for help and offered to pay for the animal's care.
Elliot the cat had been shot in the chest and had a crossbow bolt sticking through him when Mayor Nystrom, out doing some last minute campaigning before Tuesday's election, found him Monday night in his family's Norwich yard.
"He wasn't moving," Nystrom said. "We weren't sure he was alive at first but then [the owner's] daughter came in and got down on the deck with him and that just broke your heart watching."
Elliot had been missing for two days when he was found. His vets say he most likely had the arrow in him for most of that time.
Nystrom called the animal control officer, and Elliot was rushed to the vet for emergency care at All Friends Animal Hospital in Norwich.
Veterinarians were able to remove the arrow and say Elliot is doing well in his recovery, though it remains to be seen whether he will suffer lasting neurological damage. The cat was up and walking, taking a few steps on Tuesday.
"It didn't hit anything major, which is unbelievable. It was inches away," said Lona Harrelle, from All Friends. "Inches away from hitting his heart, his lungs."
"He didn't once try to bite or act vicious," Harrelle said. "And I wouldn't have blamed him. He's been in a lot of pain. But he's been just like this the whole time."
All Friends vet Kathleen Tangari performed the surgery on Elliot, and said the tissue surrounding the arrow had begun to harden over the two days it was stuck through him, and had sealed off the blood vessels. Dr. Tangari said that plus the cold nighttime temps likely prevented Elliot from bleeding to death.
According to the Norwich Bulletin,  Elliot's owner is elderly and disabled, and unable to pay for the cat's procedure and related care, so All Friends dipped into its "angel fund" of donated monies to cover the costs. The hospital indicated that Nystrom personally paid toward Elliot's medical costs.
All Friends says Elliot is much loved by his family, who are devastated by what has occurred.
Peter Nystrom lost a close contest for Mayor to Deb Hinchey on Tuesday, but has earned himself a great deal of good will from the community through his actions and compassion for Elliot and his family.
All Friends Animal Hospital shared photos at Facebook on Monday, and wrote:
"We need your help!! We had a sweet kitty named Elliot come in today with an arrow through his chest. We are hoping to find the person responsible for this heinous act of cruelty. Fortunately for this kitty our city's mayor Peter Nystrom was is the area and able to contact animal control who rushed Elliot to all friends to seek immediate treatment. Elliot is resting comfortably after having the arrow removed, although we still don't know if there will be long term nerve damage. Elliot was shot in the area of Gates road in Norwich. If you have any information please contact Norwich animal control at (860) 887-5747."
The shooting is thought by officials to have been intentional.
Elliot had a visitor today, when a young animal lover named Antonio Annicelli came in to bring a get well card to raise Elliot's spirits. Antonio shared some special moments with Elliot curled up on his lap.
All  Friends hopes Elliot will be ready to go home by the end of the week.
See the video report from WFSB 3 at bottom for more on the story.
.
.

.
.
.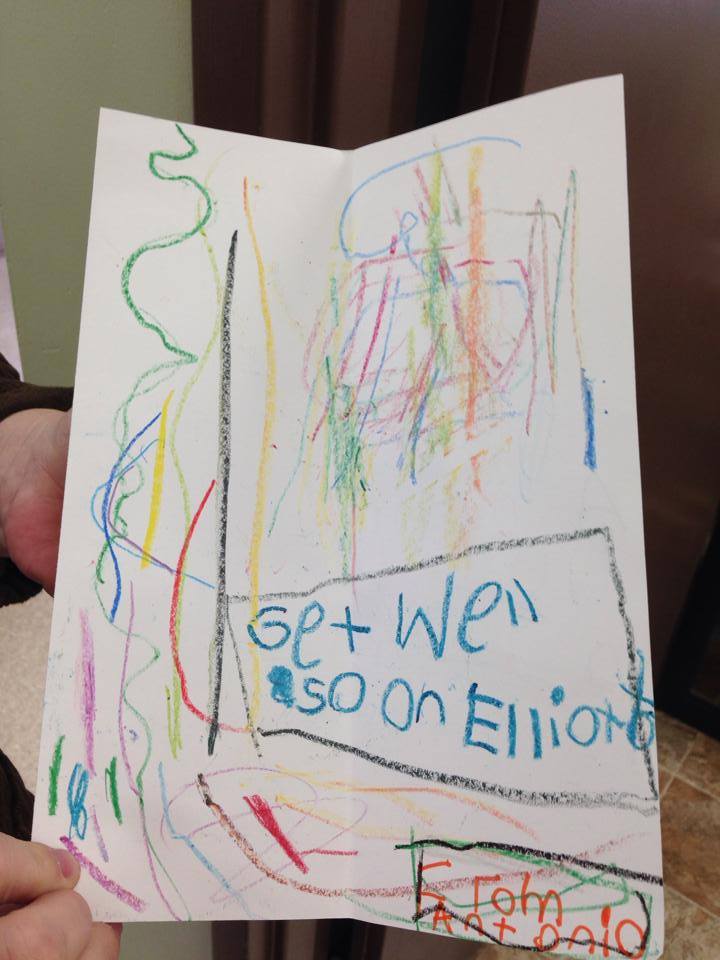 .
.
.
.
.