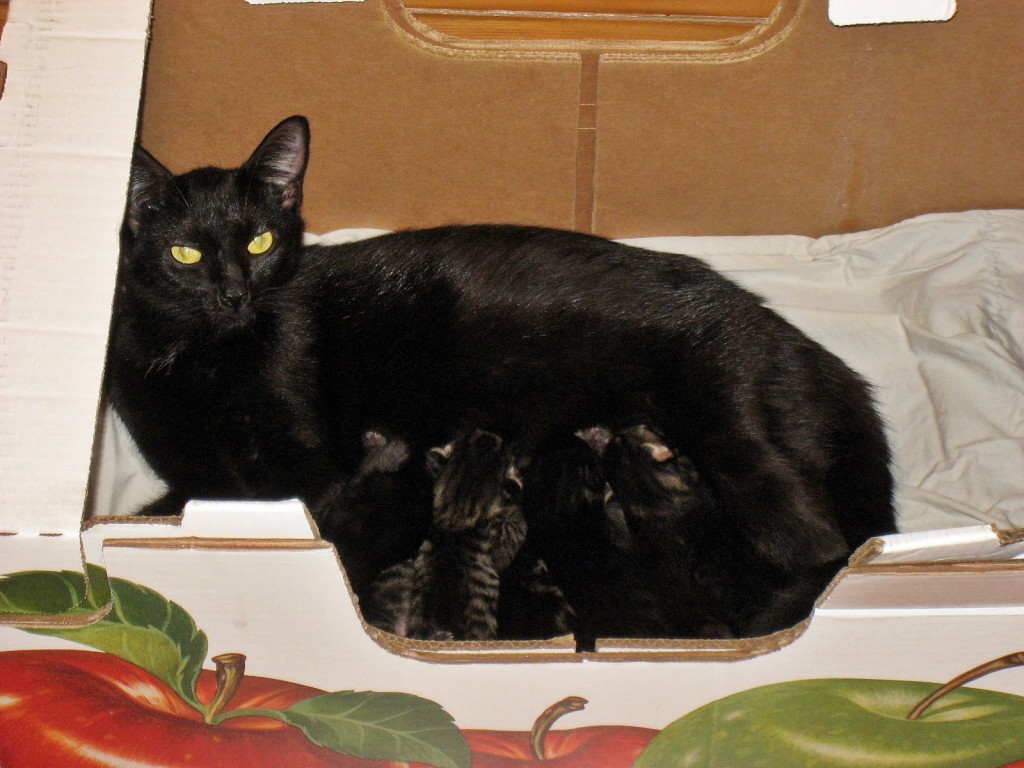 .
The story of Kami and her kittens, rescued from an industrial site and now in foster care, continues.
Doug Brown, who fosters kittens and their mamas for VOKRA, the Vancouver Orphan Kitten Rescue Association, of Vancouuver, Canada, is fostering Kami and her kittens, along with his wife Sharon. Kami and her babies were rescued from an industrial site – the sandblasting area of  machine shop.
We are sharing Doug's series of video vlog posts on Kami and her kittens. Today's post, Mama Cat Kami Learns To Love & Trust Again, uploaded on July 11, follows Kami & Her Kittens, in which the mama and her babies are introduced, and Kami The Kitten-napping Mama Cat.
See also, Tiny Foster Kittens Kissing, a short video showing a sweet moment between two of Kami's kittens.
Doug writes in his introduction to the video report below: "When we started fostering Kami & her kittens on July 4th Kami was hissing at us, hiding under the couch and wouldn't nurse her kittens in front of us. On July 6th we went through a crazy day of Kami hiding herself and some of her kittens in various spots around our fostering room and still acting scared. Then on July 7th (the day this video footage was shot) Kami did an almost complete turnaround and was not only nursing her babies in front of us but wanting attention from us too. Every day since then Kami has become more and more trusting of us and loving toward us and we are having a wonderful time together, what a great kitty she is! Kami's kittens are also doing very well."
You can also catch up on the story and see more on Kami and her kittens on Facebook at Doug's page, DrNworb's KitsCats.
Watch:
.
.
.
Video by VOKRA supporter and foster volunteer, self-described cat butler and cat video creator Doug Brown, aka DrNworb (click here to go to DrNworb's KitsCats YouTube channel).
You can follow DrNworb's KitsCats at Facebook.
For more great cat videos from DrNworb at our site, click HERE.