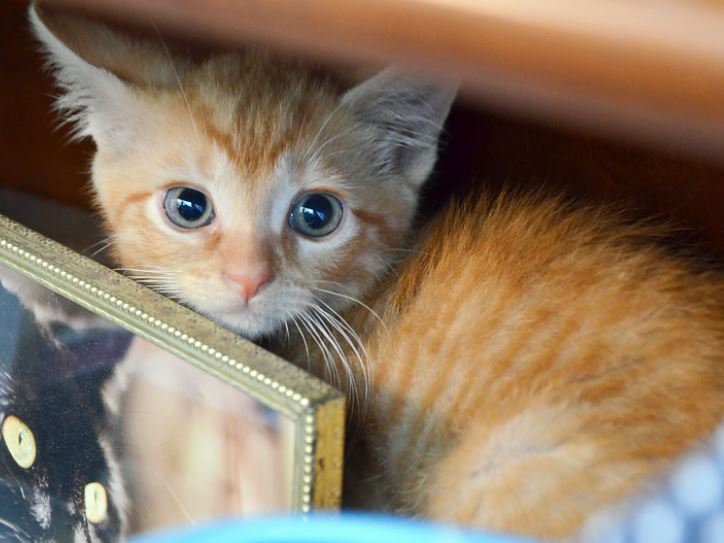 A kitten whose mama was abandoned in a Fitchburg, Massachusetts apartment when her owner was evicted is the perfect example of why a bill moving through the state legislature needs to become law.
Charlie is a 7-week-old kitten being fostered by Kathy Goguen, a member of Fitchburg Friends of Felines. Charlie's mother was left behind when her owner moved from a tenement apartment in the city. Her owner left her with an open bag of cat food and an open window. Kitty got pregnant and had her kittens up on the roof of her building. Their eyes not yet opened, all but one of the kittens fell from the roof and died. The remaining kitten is Charlie, who was rescued and is being socialized in foster care.
Kathy Goguen, along with Sally Cragin, a volunteer with Twin City Paws and the woman who heard about Charlie and his mama and rescued him, both strongly support the proposed legislation to help find and rescue pets who have been left behind in vacated apartments and homes.
Sen. Jamie Eldridge, D-Acton, is sponsor of Senate Bill 942, "Animal Abandonment in Vacant Properties," which would require landlords and property owners, such as banks, to inspect recently vacated and foreclosed properties to search for abandoned animals. Any animals found would need to be reported to proper authorities.
The bill has already passed the Senate unanimously and Eldridge expects it to sail through the house. He said he expected some pushback from landlords and banks, but got none. Eldridge says the legislation has not faced opposition and it has benefited from grassroots efforts to push it along.
"Protecting animals and animal rights has become a burning issue at the Statehouse, and it's been bipartisan," he said. "People are realizing that the way we treated animals, farm or domesticated, even 20 years ago is no longer acceptable."
Under the proposed law, landlords would be advised to contact police or animal control when they discover abandoned pets.
Charlie, the sole survivor of the abandoned Mama's kitten, has an adopter waiting for him when he is ready. He still needs to get his weight up and to become more fully socialized before going to his new home. Charlie was covered in fleas and had a back injury when found but, as his photos show, he looks healthier and handsome now.