Jar Kitty was in the news recently for getting help after having a jar stuck on her head for 20 days. Bernadette Kazmarski gives an informed account of the story with rescuer Janine Quinn's own account of the rescue included.
While she is referred to as Jar Kitty throughout this article, kitty is now named Angel.
We are grateful to Bernadette for her willingness to share hers and Janine's stories here. Bernadette plans to follow Jar Kitty aka Angel's continuing progress and has kindly agreed to share that followup with us.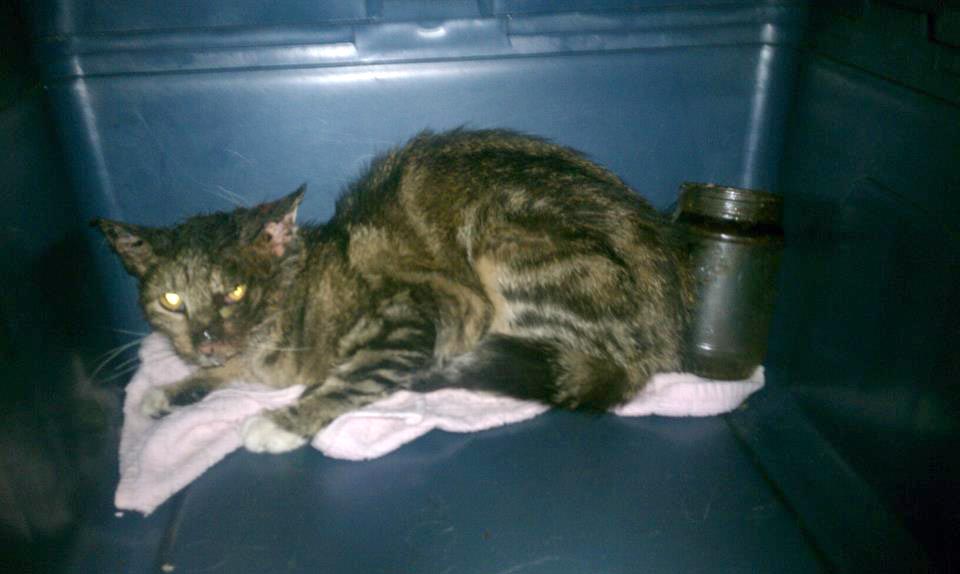 Jar Kitty in the carrier right after her rescue and having the jar removed.
Note: two of the photos below may be a little graphic for some viewers. They show how weak and thin Jar Kitty appeared at the vet.
Jar Kitty: Never Give Up Hope, Even After 20 Days
by Bernadette Kazmarski
Twenty days with a plastic peanut butter jar on her head? In the heat of this summer? Yes, and she lived through it and was rescued by a cat rescuer who just could not believe the cat had perished out there, somewhere, never to be found. Janine Quinn knew "Jar Kitty" was still around and still wanted Janine to rescue her, even when the kitty disappeared for over a week in temperatures above 90.
Rescuing cats is rarely just a matter of scooping up cats and kittens and getting them to a safe place. Cats and kittens end up in interesting or dangerous places and predicaments all the time, and along with the challenges of caring for strays and feral cats outdoors is often the challenge of extricating them from a situation.
After an evening of rounding up and trapping as many cats as possible in a stray and feral colony in a trailer park near Greensburg, PA, Michelle Miller posted an "urgent" message in the Pittsburgh Feral Cat Movement Facebook group on July 15 "…one of the cats outside is running around with a peanut butter jar on her head and obviously it's stuck…I tried to get her but couldn't…"
That began Janine's all-out effort to catch her, both alone and with the help of her mother and sister to catch the kitty at feeding times, at one point even getting a trap net over the kitty who managed to wriggle free of it and get away. In the group we came to call her "Jar Kitty" so I'll use that name here; the discussion of a permanent name for her is ongoing.
Jarkitty disappeared after July 19 not to be seen again until August 3, and while everyone was thinking the worst—but most likely—outcome, Janine was haunted by the kitty and never stopped looking, walking around the trailer park and even searching underneath her own and other trailers to see if the kitty was there, willing even to find her body just to give her a respectful burial. Everyone in the group posted messages of support and understanding, sharing stories of their own experiences of outdoor kitties and even driving out to join Janine's search. Karen Sable of Pet Emergency Training LLC, experienced in animal search and rescue, helped Janine search and loaned her professional materials for capturing a kitty, a net and "cat grabber".
On July 25 Janine heard knocking under the floorboards of her trailer and was convinced it was Jar Kitty trying to find a safe place, and though fearful of the enclosed space and possible raccoons living there, she crawled under to look as did others who came out to help her, and for the next few days tried to follow the noise as it moved around under her trailer, but no searches turned up either Jar Kitty or anything else that would make the noise.
Janine was able to speak with an animal communicator during this time who told her she felt Jar Kitty had passed and gave her some indications of where she was, but as the communicator told Janine it's sometimes difficult to interpret what the animal's spirit is saying, and it's not always clear if they are alive or not. She followed the woman's advice in looking around, but never gave up hope—and really, neither did most of us.
Then in the afternoon of August 3, Janine posted that Jar Kitty was "STILL ALIVE AND FULL OF ENERGY" and had been seen trying to eat at her mother's trailer. Within an hour, Janine had the kitty in her house, the jar off her head, and Jar Kitty was "eating and hissing" and Janine was packing her up to see a veterinarian.
Jar Kitty with an oxygen mask at the veterinarian's office.
Surprisingly, after all that time—and who knows how long she had the jar on her head before she was first seen—Jar Kitty got a good initial report from the vet with a "good heartbeat" and "no jaundice" and just a few wounds. Jar Kitty was put in an oxygen mask and given fluids and stayed at the veterinarian. Janine had mentioned when she first caught her that she "smelled like death", that horrible smell of a putrefying infection in a wound, that her head was mostly bald and the left side of Jar Kitty 's face was kind of "caved in" which the vet briefly explained it was the response of the muscle tissue after all that time. Of course, she was caked with fleas. And she only weighed four pounds!
Jar Kitty has a long way to go in recovery, and while the veterinarian Dr. Becky Morrow of Saxony Animal Clinic offered to reduce her fees to care for Jar Kitty, there is a lot of expensive critical care to come and Dr. Morrow also regularly volunteers for the Homeless Cat Management Team TNR clinics and for Frankie's Friends Cat Rescue. Janine collected over $2,300 in less than a week from a ChipIn for Jar Kitty's care.
Many of us can't believe Jar Kitty was actually found alive after all that time, and that she is in as good health as she is. The messages of hope and encouragement really never stopped from July 15 on, but it was Janine, haunted by the kitty who needed help and had come to her for rescue, who never stopped reminding us that Jar Kitty was out there somewhere, and wanted to be found.
Jar Kitty recovering with oxygen cannula and IV fluids.
After all that running and hiding, Jar Kitty decided to more or less come to Janine and nearly asked to be picked up—nearly so, but because Janine decided to tell the actual story of the rescue, with her permission I'm sharing it.
Janine's story:
The day I first saw her with the jar on her head was the 15th, then she was last seen on the 19th and I thought since it's been so long that she was gone. But I continued to still find myself walking around with a flashlight and looking for her often and still prayed every night she was alive.
So today is 20 Days!!! What a miracle!!!
My mom called me 1:43 [August 3]…and said, "Janine get up here quick, your cat with the jar is here." I froze and then said, "No way!"
She hung up and I ran up with a can of sardines and a net, saw her as soon as I got up there but she ran when she saw me. I put everything down and still tried to call her and she just took off again and continued to go under the trailer.
I saw her…and ran out the other side. I did walk fast and tried to keep up with her but didn't want to scare her off again. I decided that I was just going back to my house and maybe she'd show up because she was heading in my direction last I saw her.
Well I just got back in side my house getting food ready to feed the outside cats and my sister called from her cell phone and said, "Janine, get out there she's on your porch." Well I opened the door and didn't see her, so I continued to put their food in bowls and I could tell by all of the cats' behavior that she was under my Durango, but I continued feeding them.
It was then I noticed a man standing behind my Durango and he was wearing scrubs. He is my neighbor's home visiting nurse, but he saw the cat go under my Durango and said to me, "Do you need me to help you catch her?"
I said, "No sir, I'm not being mean but if you don't leave you're going to scare her away because she is somewhat feral and is just coming around finally." He said "ok, no problem" and left.
Then I look down as I'm standing on my porch and she walks right past me as if there's nothing wrong…So I paused for a second and thought…ok do I use the net or just grab her with my hands….so she stopped right in front of me and I just leaned over and grabbed her with my hands and got her by the back end and she swung around and scratched me but I didn't feel it, so then I thought, now what?????….so I turned and opened my front door and threw her in, not hurting her but it was that or she was going to get loose, then I shut the door.
She was freaking out in my house and I went out to the shed got the first cat carrier I could get and came back in to find her on my kitchen table trying to get out the window. I grabbed her, put her in the carrier and shut the door, then said…oh crap now what???…I just starting crying, thanking God and thought to myself, "I can't let the jar on her head, I have to get it off," so I got the Vaseline and a blanket sat on the floor and opened the cage while she was freaking out and grabbed her, put my one hand on her back and pushed down on her and got Vaseline all over my fingertips and lubed the jar as much as I could then tried pulling the jar off and couldn't…so I got more Vaseline and lubed it again…tried pulling it off and couldn't, so I said, "I have to do this"…
Meanwhile she sat there patiently…and waited so I tried one more time and she actually stretched her neck and put her head up like she was trying to help me and the jar popped off. Then she looked at me and just growled, so I shut the gate and cried then got her some food, a small can of Fancy Feast…and she ate that in like 3 seconds, I'm not kidding, I checked the can to see if I really put it on her plate and it was gone. She then laid down and just dared me to touch her.
By this time there was a knock at the door, it was the male nurse that seen her earlier who said, "I'm sorry but did you catch that cat?" I said yes, I did, and I invited him in to see her. He came in and was amazed. I then called a few people and told them the news and wrote on [the Pittsburgh Feral Cat Movement group], then I went outside and screamed across the trailer park that I have Jar Kitty and she's alive! Then texted a few people about what I should do then made plans to get her up to the vet, jumped in the shower and went.
She was so good the whole way up in the car. She was just so relieved to be out of that jar….which, by the way, was a plastic small peanut butter jar, so I think that helped the situation.
___
WTAE Pittsburgh, PA report on the story, with Janine and vet Dr. Becky Morrow.
___
The ChipIn remains open.Any funds raised over the amount required for Jar Kitty aka Angel's medical care will go help relocate 90 cats at a trailer park that Janine has had spay/neutered out of her own pocket and now need to me moved on the park management's orders.
Thank you, Janine, for believing.
Photos provided by Janine Quinn
Read more about the Homeless Cat Management Team at the Creative Cat.
All images used in this are copyrighted to Bernadette E. Kazmarski unless otherwise noted and may not be used without written permission.
This article is reprinted from with The Creative Cat the author's permission.