Sasha was let out, ended up at a shelter, was adopted, returned to the shelter, then was spotted by someone who recognized her, and is finally back home.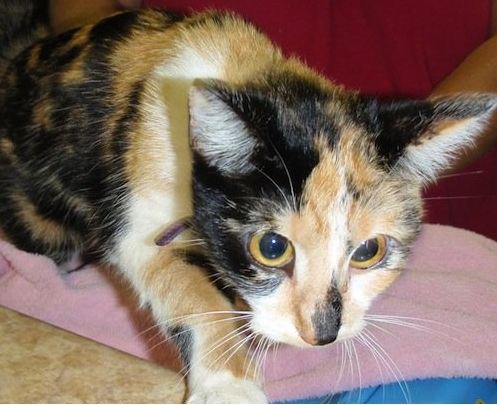 Blind kitty Sasha was about a year old when she got out of the house and went missing in 2010. Sasha was the cat of Illinois residents Kris and William Salas when she escaped from the house of a friend who was watching her. The Salases were living in Wilsonville at the time, and their friend was living in Chesterfield.
When Sasha was not found, Kris thought she would never see her again.
Sasha was brought to Benld Adopt-A-Pet in September 2010. When staffers were unable to identify her or reunite her with her family, they placed her up for adoption. Sasha, who was being called Chastity, was adopted by someone from Iowa who was looking for a special needs kitty.  Things did not work out, and after six months in her new home she ended up back at Benald Adopt-A-Pet's shelter.
Sasha/Chastity stayed at the shelter for a year after being returned there, until she was  identified recently when a friend of Kris Salas spotted her in online listings placed by the shelter. The friend forwarded the calico kitty's photo to Kris, who knew she had finally found Sasha.
Sasha has had to readjust to her home and family again, along with the new kitten they adopted just days before Sasha was found. The family now lives in MO, so the home and surroundings were unfamiliar.  Kris told a reporter that she had held off on adopting another cat for two years, keeping Sasha in mind. Right after she went ahead and made the adoption, Sasha came back home.
Kris is quoted in a State Journal Register story on the reunion, talking about the chances of Sasha ever getting out or lost again, saying, "There's no way it's going to happen again. She is the most unique cat I've had. We're thrilled she's here, and I don't want her to ever leave."