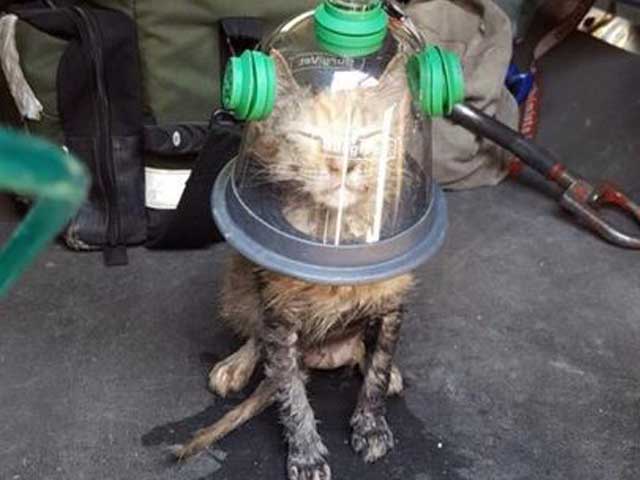 A cat pictured wearing a pet oxygen mask like a helmet was brought back to life when firefighters found him lying unconscious in his burning home.
While it is not unusual these days to see photos and video of cats suffering the effects of smoke inhalation being revived by firefighters and other emergency responders with the aid of pet oxygen masks, a new photo of a cat in New Orleans stands out. The cat, who was completely overcome by the smoke, is pictured sitting up with a large pet mask placed fully over his head.
TV station WVUE reported on the story, sharing a photo posted to Facebook by Mary Ann Cardinale.
WVUW reports that the cat appeared lifeless when he was rescued from a home in the city's Seventh Ward where a small fire broke out in the kitchen at around noon on Wednesday, but he was quickly revived with the use of the pet oxygen mask.
"I guess he has eight more lives," Doug Cardinale of the New Orleans Fire Department is quoted as saying.
Cardinale said two other cats had escaped from the home and were unharmed, but the third cat was discovered lying unconscious in a hallway near the flames.
Firefighters brought the seemingly lifeless cat outside and gave him oxygen, and within minutes he was revived.
Kitty is believed to be in good health following the incident and is back with his family.