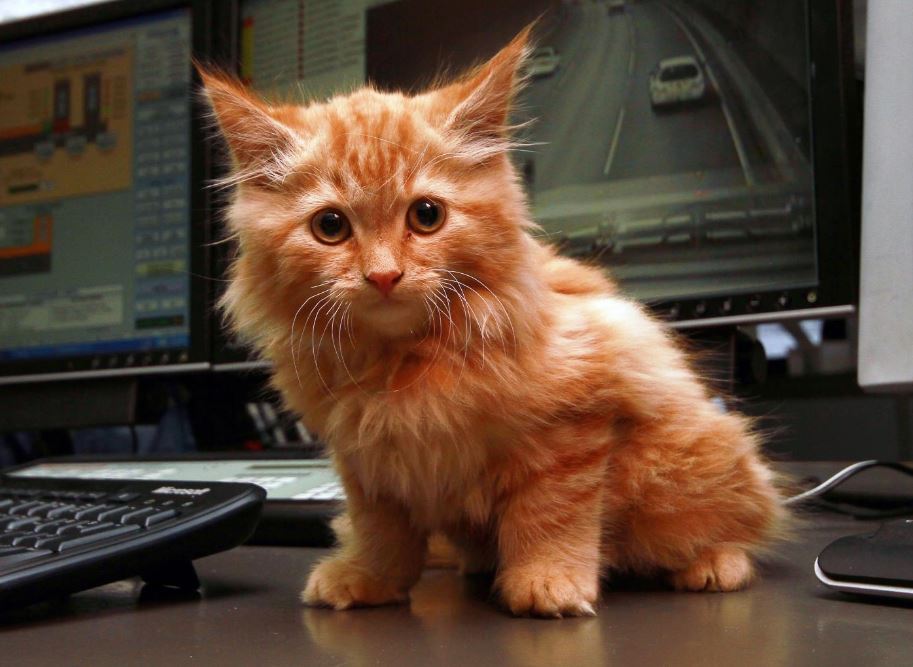 An adorably fluffy ginger kitten was rescued when he was spotted in a very bad location. Dodge was in danger from the hundreds of cars passing him by deep in the Burnley Tunnel in Melbourne, Australia last Wednesday. He was rescued by Citylink transportation workers who stopped two lanes of traffic and struggled to get hold of him.  He was taken to the Lost Dogs Home, where he is being held for a number of days to give his family to come forward and reclaim him, if he has one. He will be available for adoption soon if he is not claimed.
The Lost Dogs Home tells the story:
10-week old kitten, Dodge is counting his nine lives after being rescued from the Citylink Burnley Tunnel late last week. It was close to midnight when the Citylink control room which was monitoring the tunnel noticed a car slow down and come to a complete stop. Upon closer inspection, the control room noticed that the car had discovered a small ginger kitten that had found his way into the tunnel.
Wasting no time at all, the incident response team arrived at the scene. Dodge was incredibly frightened and covered in grease as he sheltered in the gutter. Scared by the vibration and noise of oncoming trucks, he bolted to hide underneath the incident response team's van.
After a bit of a stand-off with the terrified kitten, they were successful in capturing little Dodge, but only after shutting down two lanes of traffic to ensure his safety. With Dodge cradled in their arms they returned to base where they contacted The Lost Dogs' Home.
The Home has worked closely with Citylink for over 10 years so once Dodge was safe back at base, the Home attended to the call from Citylink and picked him up. The Home would like to thank Citylink staff for their valiant effort in capturing and comforting Dodge.
The gorgeous little medium hair ginger kitten was in dire need of a bath and once all the grease was washed away he was vaccinated, wormed and checked for a microchip.
Although Dodge has a gentle and loving nature and appears to have been owned before he embarked on his big adventure, he was unfortunately not microchipped.
Dodge is currently at The Lost Dogs' Home North Melbourne shelter where he will be held as a stray to give his owners the opportunity to find him. If he remains unclaimed Dodge will be looking for a new adopted home early next week.
In the meantime, Dodge was reunited [yesterday] with the staff in the Citylink control room who discovered him on the CCTV footage and can be seen lapping up the attention.
.
A news report tells the story with more detail.
<via>