A baby fox  injured and temporarily blinded in a car accident has become friends and playmates with three kittens who may have saved his life by keeping him warm as he recovered at Kent Wildlife Recovery Service in the UK.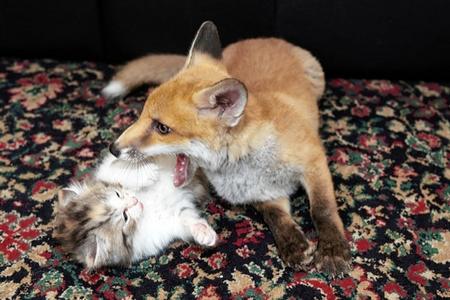 The fox kit had seizures and required IV drip when he first came to the Wildlife Service and has been handled and gotten plenty of human attention because of his serious condition. It was not known at first whether he would survive. Lorraine St John has been hand-rearing the fox, and says the kittens that he has bonded, played and snuggled with during his recovery were abandoned, and came to her at about the same time as the fox.
The fox has regained his sight during his recovery and will be moved to the Fox Project in Pembury before being returned to the wild in five or six months. For now, he has a special friendship with a very different set of kits … kittens.
.