We covered the story of the pampered house cat summarily shot by a Lebanon, OH policeman in response to a call about a supposed stray, last August. Haze asks WHY DID THE POLICE SHOOT ME? in the petition started last month. His family and supporters seek change so that what happened to Haze will not happen again.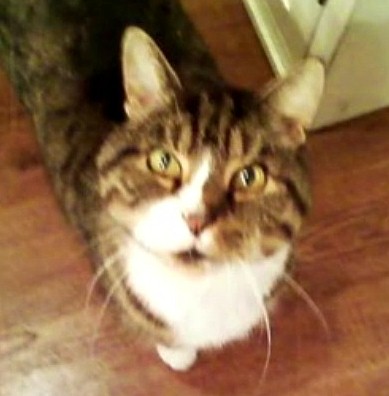 Dori and Randy Stone are loving and responsible pet owners who care for six cats.  They still miss their beloved Haze who was shot by a local police officer on August 20, 2011 for being in the wrong place at the wrong time. That wrong place was out of his yard and laying on a neighbor's back lawn. That wrong time was when the neighbor's brother in law, who does not even live in Lebanon, called police and reported Haze as a stray. Officer Covey came to the scene, and five minutes later Haze was laying dead with a bullet hole in his head and the officer was gone. Dori and Randi found Haze wrapped in a garbage bag and stuffed in the bottom of the neighbor's trash bin. They lay their boy out on the lawn. There were no signs of illness or trauma except for that bullet to the head.
The Stones, cats are indoor cats, but Haze sometimes liked to lay out in the yard. He was a beautiful, well groomed 20 pound tabby in perfect health. Haze went missing on Friday night, the 19th, and set of a frantic search by Dori and Randy, who covered the neighborhood calling his name. On Saturday morning, Betty Haslip and her brother in law Vernon Lake saw Haze laying in Betty's yard.  Ms. Haslip planned to go knocking on doors but Vernon, who was raking another neighbor's leaves, called the police without her knowledge and reported Haze as a stray. Vernon is reported to have shown no regard for Haze's life or well being and kept coming up with different reasons why he needed to be put down. Versions of his story say he thought Haze was a  sick or possibly rabid cat when it was noted that he did not resemble a stray. Anecdotally, Vernon is described as a cat hater. Officer Covey, a twenty-something newcomer to law enforcement, apparently did not question the need to get rid of Haze, and did not bother to call the humane society to see if a cat had been reported missing.
Dori had reported Haze as missing to the Humane Society by the time of the incident and says that a simple call from the officer could and should have saved her cat's life. Haze's family was kept waiting and wondering what had happened until Sunday when Dori called the police and was told an officer had killed a cat the previous day, and that the caller suggested the cat might be a stray and looked like he might be rabid.  Dori and Randi immediately went and retrieved Haze's body.
Haze was a sweet, loving cat with many of those special traits and habits that pet parents feel makes their own pet special. While he was largely an indoor cat, he did spend some time in the yard, as noted above. While outside, Haze adopted a young 6 month old stray who he brought to his door for feeding and a safe place to stay. The little stray, formerly called Miss Marple, later Marlowe, looked up to Haze as a parent and companion. Marlowe spent time on the Stones' back porch, where Haze would go to sleep with his little pal. When Haze was killed, the Stones took Marlowe inside for his own safety, and to honor Haze's friendship with him, they took him to the vet and adopted him. Marlowe remains an indoor cat, but six months later he continues to look for Haze.
The Stones still cry when they talk about Haze and they have not lost any of their determination to find some measure of closure for his senseless death by pushing for the changes that still have not come to their town.
We covered the story on August 27, in Tragic Cat Shooting by Police Highlights Need For Policy Change. Haze's shooting brought matters of police policy and the practices of local government and justice to the fore, and brought issues to light that have engaged local residents to this day. Six months later, little has changed. Aside from the summary execution of Haze based on a flimsy request from a man raking leaves, issues include a policy Operations Manual that, unlike all other area police policies, forbids an officer from transporting an animal in a cruiser. The town does not have an animal control officer and the local Warren County Humane Society does not pick up animals. There is a dog warden who deals only with dogs.This leaves a huge gap in animal care and control services for Lebanon, a well to do community. Another issue that has galvanized residents is that Officer Covey discharged a firearm in a densely populated neighborhood in a non-emergency situation, and followup procedures were not made.  A supervisor is supposed to go to the scene and count the officer's bullets and turn the shooting over to internal affairs.
A City Council meeting after the incident drew a large attendance and brought about the promise of change. A draft of new provisions to the Police Operations Manual was intended to appease the Stones and other concerned members of the public, but many are left feeling that nothing has changed. With the new provisions, officers are still not forbidden from shooting an animal, even though it is against the law to do so in the state of Ohio. They may not shoot wildlife or dogs, but other pets are not protected.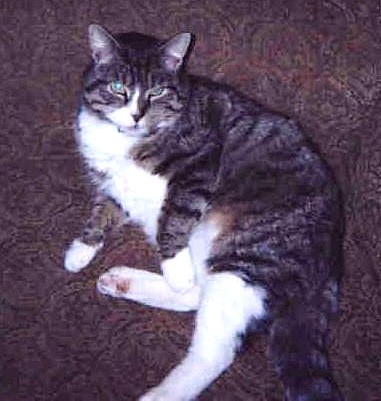 While Dori and Randy initially thought they were alone in their grief for Haze and concern for local policies and practices, they were amazed to learn that, within weeks of the incident, the Lebanon City Manager received over 1,000 calls and emails about the case. The story made its way into the press when the Stones' petsitter posted about Haze's shooting on her Facebook page. Someone with media connections saw the post and the story became news from there.
There is a Haze the Cat Facebook page dedicated to Haze's memory and to Dori and Randy Stone's quest for change and closure on the terrible case of their beloved cat's death. The page could use a few more "likes".
The Stones would appreciate your help. While they feel it it crucial to their effort to have signatures from their local area they are seeking as much support as possible from all over.
The petition is hosted at Change.org, which emails the target each time someone signs the petition, WHY DID THE POLICE SHOOT ME?
The stated goal and purpose of the petition is, "to persuade the Lebanon City Council, City Manager and Police Chief to require all Lebanon, Ohio Police officers to take an animal rescue training course, which the Ohio Humane Society has offered to provide. This petition also seeks to revise the Lebanon Police Operations Manual to prohibit officers from using deadly force on any non-threatening animal and to formally reprimand Officer Covey and his supervisor for using unnecessary deadly force on Haze in a residential area."
The Humane Society of Greater Dayton supports this petition and has shared it with those on its mailing list, getting the petition off to a very good start. The petition currently has a set goal of 2,500 signatures. We will suggest that the goal be set to a higher number. The petition currently has just over 1,900 signatures.
.
.
News video from August, 2011.