ED. NOTE: All of the cats at risk of euthanization on August 21, 2012 were saved. Those that were not adopted were taken by rescues. We will publish a new story when we have more details.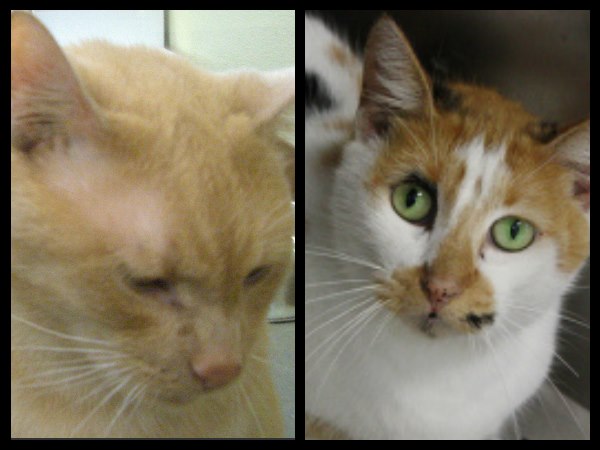 "The need for adoption is immediate. Without a sufficient number of folks who are willing and capable to adopt a cat, some of them may have to be humanely euthanized."
Ronnie Schultz, district Director of Environmental Services, in a July 15 guest column in the Galveston County Daily News
That, sadly, is a gentle way of saying that if they do not find homes within days, many cats rescued in a seizure from Whiskerville Animal Sanctuary in Texas City, Texas will be put to death. The cats, many of them seniors, were removed in January of this year from their familiar environment after it had become a horrific scene of neglect and death. They were held in legal limbo for months as Whiskerville owner Wydell Dixon and her attorney held up efforts to remove them from her ownership. They were released for adoption in May and a special adoption event was held shortly thereafter to try to find them homes.
These cats who are now facing death if they are not pulled or adopted before their August 21 kill date, were saved from a situation where they sat starving and alone for weeks in a free roam so-called sanctuary located in an old commercial building, watching their companions die, as their feces piled up around them. All this occurred while 2,000 pounds of donated Science Diet cat food sat untouched in an outbuilding on the property.
The 170-plus living cats taken in the raid were housed in several local shelters, with the vast majority at Galveston County Animal Resources Center (GCARS). There, staff and volunteers cleaned, brushed, and provided socialization and emotional rehabilitation for the cats, as their medical needs were treated, and they were properly fed and watered for the first time in weeks.
Now, 32 of the 43 cats the county health district and  GCARS recently decided to give up on only have a few more days to live unless they are once again rescued. The shelter is not planning to kill the cats purely out of callous disregard, but to relieve shelter crowding. A change in management in recent months has facilitated shelter killings, according to former volunteers.
An email campaign and  Facebook postings by shelter volunteers and local cat lovers has saved some of the cats, but time is running out for the remainder. All of the cats have been fully vetted for adoption, and are spayed/neutered and vaccinated.
Here is the text of an email being shared:
PLEASE, PLEASE, PLEASE SEND THIS EMAIL ONTO EVERYONE YOU KNOW AND DON'T KNOW. ASK THEM TO DO THE SAME THING. WE HAVE 13 DAYS FROM AUGUST 9TH TO GET THEM OUT. PLEASE HELP THEM.
I want to make one very important point. It is not the county's fault this is being done. With 40 to 50 animals coming thru the door everyday, they can not keep housing animals. If they get too full, they have to euthanize animals. It is very sad but until there are laws passed requiring people to have their animals spayed/neutered this will always be the situation. There are beautiful dogs there that time is running out for them too. Go by and see if you can take one animal. They are closed on Sunday and Mondays to the public. The people that work there do a wonderful job with the cards they are dealt. PLEASE HELP. IT IS CRITICAL!!!!
The 43 Whiskerville Cats who have been put on "Death Row" at GCARC in Texas City, TX are beautiful loving seniors around 10 years old. They have survived so very much after being neglected and starved, then sat in legal limbo for 6 months. Now 2 months after given custody, GCARC has put them on "Death Row". They have so many years of love to give. GCARC will be killing them if they don't get adopted within the next 7 days. Please help spread the word and get them out of there quickly. Thanks!
(Note: The email also includes the shelter's contact info and hours, found at the bottom of this post. Anyone sending the message will want to include that important information.)
Anyone wishing to help network these deserving cats with friends, rescuers and crossposters at Facebook can click on the link below from the Facebook page Galveston County Furry Kids Need Homes and share it.  The link goes to a photo album with the message seen in italics and the photos used in this post..
Whiskerville Cats Death Row Urgent Help Needed
Urgent! Rumors are that the High Kill Shelter GCARC in Texas City, TX will be killing the approx. 40 Whiskerville Cats they have. These beautiful survivors were seized Jan. 3 after being starved and neglected for weeks. Then they got healthy and sat in legal limbo for months. They have been through so much. Four are very healthy but are FIV+ and one is missing an eye. They have been spayed/neutered, chipped and vaccinated. They have a special adoption rate of $10. Your help is needed! Thanks! This is GCARC's contact info: 3412 Loop 197 North Texas City, TX 77590 Phone: 409-948-2485 Shelter hours: 12 pm – 5 pm (Tuesday through Friday), Saturday 10 am – 5 pm. This is their contact info: 3412 Loop 197 North Texas City, TX 77590
After word of the scheduled killings got out, 11 of the 43 cats were adopted or tagged by rescues . The remaining 32 need people to step forward quickly if they are to be saved.  It is suggested not just to wait for a call back if you are calling and do not get an answer.
GCARC's contact info:
3412 Loop 197 North
Texas City, TX 77590
409-948-2485
Adoption Hours: 12 pm – 5 pm (Tuesday – Friday),
10 am – 5 pm (Saturday)
CLOSED Sunday and Monday
The adoption fee is $10
For coverage of the conditions the cats were subjected to at Whiskerville, the seizure, legal action against the sanctuary owner and her employee, efforts to help the cats recover from their ordeal, the effect on the shelters holding the cats while they languished in legal limbo for months, and the time when the cats were finally released and made available for adoption in May, click HERE.