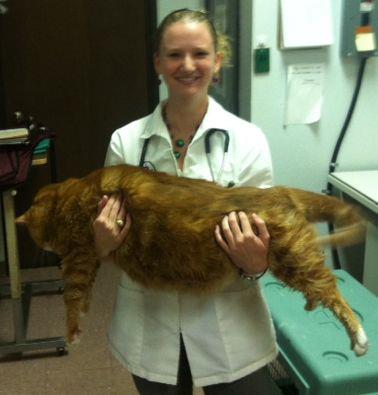 Skinny, the subject of a story we published that got a lot of attantion Thursday, 41 Pound Cat Brought to Shelter as a Stray, is a sweet, displaced oversized kitty who came to the Richardson, TX Animal Shelter on September 13 after turning up unaccountably in a local resident's back yard. Not surprisingly, after a feature in the Dallas Morning News, Skinny's story ended up on TV and is now going national.
A post from Rachel Rice at the neighborsgo blog section of the Dallas paper's site gives an update that includes the surprising information that he is in fact a she. The gender mixup was discovered during a veterinary exam at  Buckingham Plano Road Veterinary Clinic yesterday. Although Skinny was put up for adoption earlier in the week, and the shelter was flooded with inquiries after she was featured at the shelter's Facebook page and in Thursday's Dallas Morning News, Skinny will not be going to a forever home anytime soon. The shelter is now trying to place her with a shelter or rescue group that has expertise dealing with extremely obese cats and can monitor her health and implement a safe and effective weight loss programme. She is thought to have diabetes; the shelter is waiting for the results of her blood tests in order to confirm it.
Skinny is meanwhile holding court in the small room at the shelter that has become her little temporary home. She is sweet, friendly and loves the attention she is getting.
It remains a mystery how the 3 to 5 year old girl, who is assumed to have been doted on in a home and who has trouble walking more than a few steps at a time, ended up on her own in someone's backyard. Skinny was found by a Richardson resident; she was lying on the lawn in the woman's gated, fenced in backyard.
Here is raw video of Skinny at the shelter.