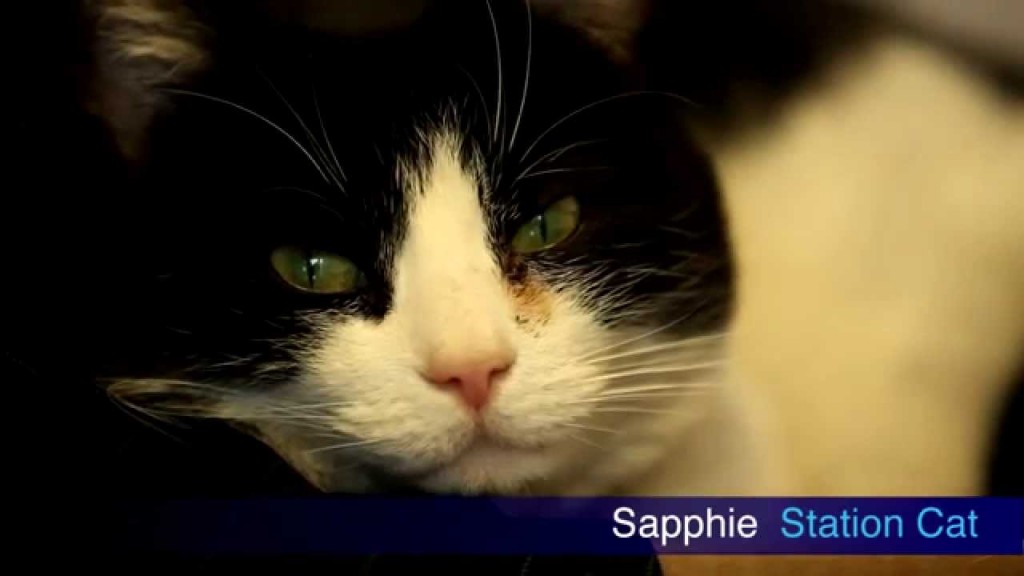 .
See paw-some Sapphie the station cat in A Tail From Tonbridge!
Since litter-alley moving in at the station, her paw-sitive cat-titude has people feline good!
Eight year old Sapphie was welcomed by staff at the Southeastern railway line's Tonbridge station in Kent, UK when her family moved away.
Sapphie had enjoyed her daily visits to the station and already felt at home there, so her family asked if she could live there permanently rather than have to move to a new place.
She is happy as a resident and ambassador for the station and is beloved by staff and passengers alike.
Steve Davies, who works in the sales ticket office at Tonbridge station, said: "She goes wherever she likes basically."
Sapphie takes cat naps in the station manager's office, where her litter box is kept. She has developed a taste for running tap water and loves to scratch the coconut matting at the station's café.
Jamie Good, station supervisor, said: "She's like our little extra helper. She makes herself known out on the platform and brings people together because everyone's talking about her, getting treats for her, feeding her, buying her new beds and all sorts of stuff like that."
Debbie Hanson, local train coordinator and "one of her feeders", said: "She just started hanging around here. A few of us started thinking we better get some food for her and got really attached. The (previous) owners said her name was Sapphire, so it's Sapphie for short, and we just kept that name."
Sapphie's 'tail' is the first in a series of short YouTube films by Southeastern, tagged #AmazingJourneys.
David Statham, managing director of Southeastern, said: "Hundreds of thousands of passengers use our services every day but they may not be aware of some of the amazing stories that happen at our stations. With #AmazingJourneys we want to share some of these that show the people, places – even pets – out on our network every day."
.
.