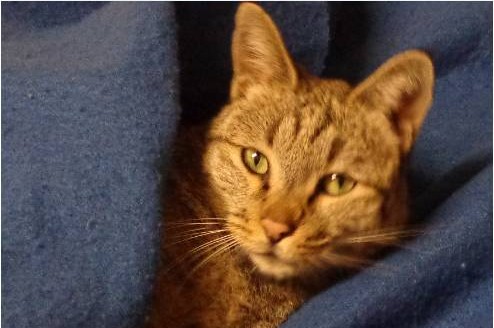 Tinkerbell was rescued in Afghanistan by a soldier who will bring him back home, with the help of Nowzad, the Soldiers' Animal Companion Fund and the generosity of animal lovers.
Tinkerbell's soldier friend is one of a growing number of servicemen and women who are able to show their gratitude to the animals who help make life bearable when they are far from home by bringing those animals back home with them.
Nowzad operates a shelter and clinic in Afghanistan and assists soldiers in taking their dogs and cat companions back home with them.
The stories of the cats and dogs whose soldier friends want to adopt them permanently and take them back home to the US or UK are usually told by the soldier, but this one is told in the cat's voice.
A message from Tinkerbell:
"Hello Everyone!!
"My name is Tinker (aka Tinker Bell). I was abandoned and living in the cold when someone saw me shivering while looking for food. I was shy at first to the person who called out to me, but my cat sense told me this was a good person.
"When I went to him, he gave me some tuna fish (which is what we cats call filet mignon). So I followed him back to his small room which I envied because it was warm inside. Much to my surprise, my new friend let me in and I immediately fell in love with him. He purred to me and stroked my fur and made me feel wanted. He even let me sleep on the bed in my own blanket!
"Now my new found friend is going home soon and wants me to go with him, but I need your help. I even purred to God that he would find a way to get me with him and Nowzad has offered to help him. Can you help too? Purrrrty Please?"
As of this writing, Nowzad, Soldiers' Animal Conpanion Fund and their supporters have raised $1,449 at the  Tinkerbell gofundme fundraiser page toward the goal of $2,900 to help Tinkerbell get home.
Tax-deductible donations are also being accepted by the SAC Fund, administered in the US, where contributors are asked to write in the  "Comments or Special Instructions" field that their donation is for Tinkerbell.
Tinkerbell is slightly more than halfway toward his (or her?) donation goal. We know that Nowzad, SAC Fund and their supporters will help Tinkerbell to go home.
.
.