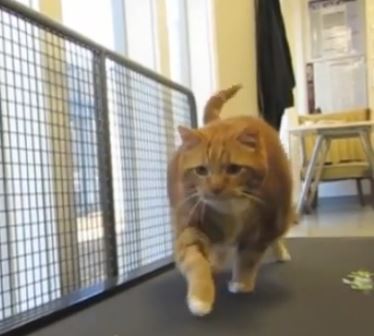 Here's a fun and heartwarming cat exercise video starring Skinny, who knows how to move it, and has lost 17 pounds since being found, barely able to walk, in a woman's back yard in Texas 16 months ago.
Skinny, the famously fat cat, was found in Richardson, TX in September 2012. Since his initial weigh-in at 42 pounds, he has been on a long weight loss journey. He is down to 25 pounds!
After being brought to the Richardson Animal Shelter in Richardson, TX, Skinny was placed in the care of Dr. Brittney Barton at East Lake Pet Orphanage/Pet Hospital in East Dallas. Dr. Barton adopted Skinny, and has since opened her own practice, HEAL Veterinary Hospital in Dallas, where Skinny continues with his walking and water treadmill fitness regimen.
Dr. Barton told the Dallas Morning news on the anniversary of his rescue, in September 2013: "As his weight loss has progressed and his personality has bloomed he's moving better. He can jump up on the couch, he can jump up on my bed, he can come out and seek out interaction much easier."
Dr. Barton says Skinny has a food addiction and it helps for him to be distracted and engaged. She encourages HEAL staff and visitors to show affection to Skinny and play with him when he is at work with her and getting his exercise during the day.
Skinny demonstrates the exercise routines that have helped him go from fat cat to fit cat. His transformation is a remarkable achievement, with credit going to Skinny and to his trainers and medical caregivers at HEAL Veterinary Hospital.
So many "Fat Cat Gets Help" stories have sad endings, as heart and other issues shorten the famously obese cats' lives, but Skinny's tale is one of triumph and second chances.
For more about Skinny, visit HEAL Veterinary Hospital at Facebook.
Watch Skinny 'move it':
See also:
September 20, 2012: 41 Pound Cat Brought to Shelter as a Stray in Richardson TX (He actually weighed 42 pounds.)
September 22, 2012: Update on 41 Pound Cat Skinny: Vet Says He is a She (Poor Skinny was go huge it was difficult to know his gender; it was finally confirmed that Skinny is a male.)
October 26, 2012: Skinny the Cat Loses Weight
September 18, 2013: Skinny: Fat Cat's Weight Loss Success A Year Later