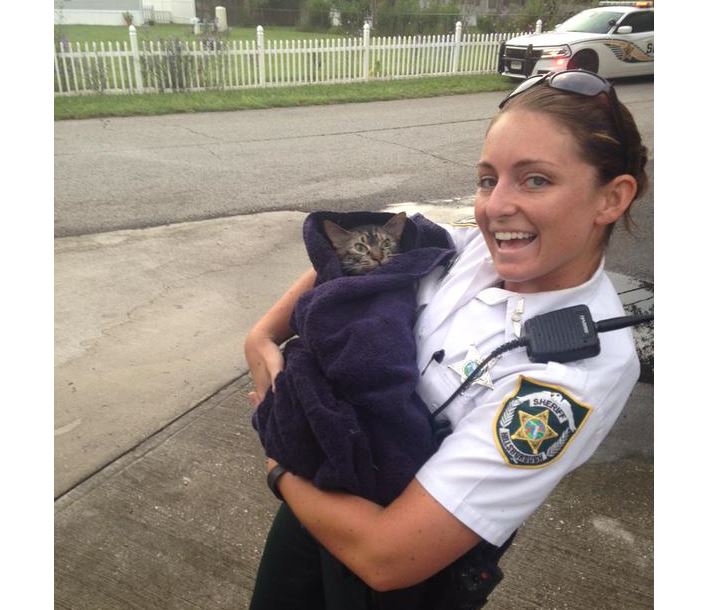 .
A public safety officer is being credited with saving the life of a cat who was overcome by smoke at a house fire over the weekend.
On Sunday September 13, Hillsborough County, Florida Sheriff's Office deputies were dispatched to a mobile home fire at the Ranch Oaks Estates Mobile Home Park in Thonotosassa.
They learned upon arrival that one of the home's residents, Melanie Caffrey, had been rescued by neighbors but another, David Caffrey was still inside.
The home was fully engulfed when Deputy Dustin Hartline and his recruit, Deputy Ryan Jones arrived. Deputy Hartline and Deputy Amanda "Brooke" Talbot used their fire extinguishers and neighbors used a garden hose to try and fight the fire to little avail.
Hillsborough County Fire Rescue arrived shortly after and battled the fire, eventually making entry and pulling David Caffrey from the home. Both Melanie and David Caffrey were transported to Tampa General hospital listed in stable condition.
In addition to getting David out of the burning home, the emergency responders also saved the family's cat, who was unresponsive when found by Deputy Talbot. Talbot used her infant Ambu bag and resuscitated the kitty, then Hillsborough County Fire Rescue then administered oxygen.
After the cat was brought around, Deputy Talbot contacted BluePearl Veterinary Partners in Tampa, and the clinic agreed to evaluate the cat free of charge due to the circumstances.
One of the Caffreys' neighbors took the cat to BluePearl, where vets said the rescued animal will be fine. A neighbor will care for kitty until it can be reunited with the Caffreys.
Before turning the cat over to the neighbor who took it to the vet, Deputy Talbot posed for the camera, with kitty still bundled into the Ambu bag, giving a big, happy smile.
.
.
RESCUE: yesterday, Deputy Brooke Talbot used her infant Ambu bag to resuscitate this cat located at house fire scene. pic.twitter.com/sRH3DSxzSu

— HCSO (@HCSOSheriff) September 14, 2015
Story via a Hillsborough County Sheriff's Office news release