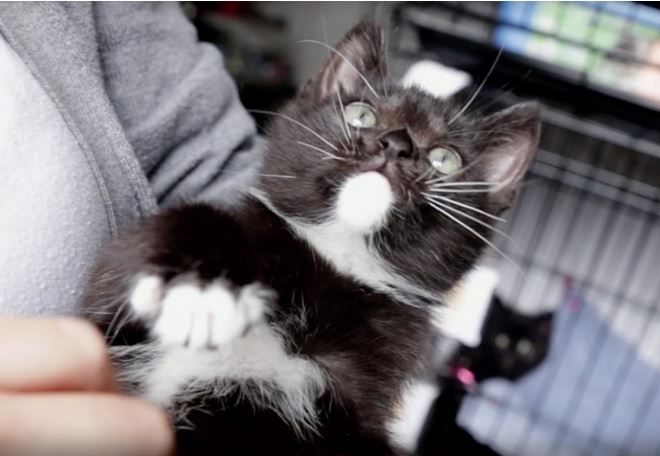 Meet Smalls, Fleckman, Tufnel, St. Hubbins and DiBergi.
These kittens were born on the street and were found underneath a house.
The mother tested positive for FIV and there is a possibility that the kittens may have FIV. FIV, or Feline Immunodeficiency Virus, is often referred to as 'kitty AIDS.' The FIV virus can lead to an immunodeficiency that affects a cat's immne system over a periiod of years, though many FIV positive cats never get sick and lead normal lives.
The kittens will have to wait until they are 9 weeks old before their caregivers get them tested for the FIV virus and their status can be known.
FIV is a cat-only condition that cannot be spread to humans or other animals. The virus is not passed easily between cats either. It is only spread through blood transfusions/transfers, infected gums and, rarely but possibly, from a mother cat to her kittens.
FIV cats most often live long, healthy and relatively normal lives with no symptoms at all. They often share homes with non-FIV cats without spreading the virus.
Sante D'Or Adoption Center in Los Angeles, California rescued these kittens because they deserve forever homes.
In a few weeks, they will be tested for FIV and will be ready for adoption. If they are FIV positive, Sante D'Or will stipulate that they go only to homes with FIV-positive cats or no other resident cats.
These kittens are healthy, sweet and playful. There is nothing wrong with them.
Regardless of their status, hopefully they will all find wonderful homes.
Watch the Pet Collective video on the kittens and their story: