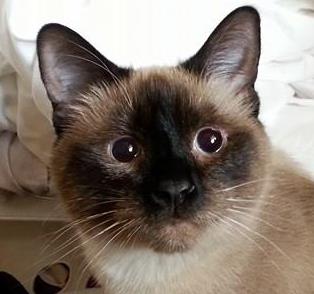 .
It's been nearly a year since Jacksonville, FL area resident Carmen Bernard found a tiny kitten with a twisted leg sitting in the middle of the road and brought her home, thinking she'd been hit by a car.  The kitten, later named Pretzel, was not hit; she was born with deformities that caused her right hind leg to be twisted, with her little foot facing backwards. Her pelvis and left leg were abnormal, her tail was stubby, and she was blind.
Carmen didn't give up on the kitten. She took her into her family, shared her journey with the world through a Facebook page, The Little Kitty That Could, and got her help from University of Florida vets.
Carmen and Pretzel's many friends at Facebook helped make it possible for the kitten to get the best of care. There have been triumphs and disappointment along the way, but Pretzel is safe and happy and doing well.
Carmen is celebrating Pretzel's first birthday with a video that tells her story, while giving thanks to the many supporters and friends who opened their hearts to the special kitten.
Pretzel posted at Facebook today, saying:  "Mom worked very hard on this video. My birthday wish is for it to be shown far and wide so everyone can see what a special needs pet can overcome with a little bit of love."
You can follow Pretzel at The Little Kitty That Could page on Facebook.
Here is the touching and heartwarming video of Pretzel's Story:
.
.
See also:
December 15, 2012: The Little Kitty That Could
January 3, 2013: The Little Kitty That Could: Cat vs Mouse
January 20, 2013: The Little Kitty That Could Update: Kitten Gets a Brace in Preparation For Surgery
February 16, 2013: Pretzel, The Little Kitty That Could, Explores New Cosy Digs After Surgery
March 6, 2013: The Little Kitty That Could Makes the News
March 11, 2013: The Little Kitty That Could: Up and About
March 26, 2013: The Little Kitty That Could: Cat Lady in Training