Five month old Beau is back on the ground, safe and sound, after being stuck high up in a 45 foot tree in freezing temperatures for two days. The kitten climbed up the tree near her Chadwick Close, Mount Nod, Coventry UK home on Saturday afternoon, then was too scared to come down.
Neighbors tried to help, but their ladders fell short. The West Midlands Fire Service came with a truck on Monday and made the rescue using the cherry picker lift.
The tired, cold and hungry kitten allowed her rescuer to take her from the tree branch without putting up a struggle.
Beau's guardian Robyn McEnery told the Coventryy telegraph, "I would like to thank the firemen, without them I don't know what we would have done."
Robyn's family adopted the kitten a couple of months ago, after finding her abandoned in a field.
In many cases, firefighters will rescue cats from trees when called by the RSPCA after the cat has been stuck for over 24 hours.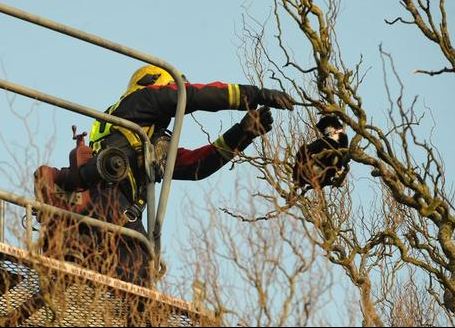 <via>