Oscar famously became a bionic cat when he got hind feet implants after a 2009 accident that severed his own feet. This video visit with Oscar from earlier this year shows him getting around as normally as any cat with his remarkable little stems.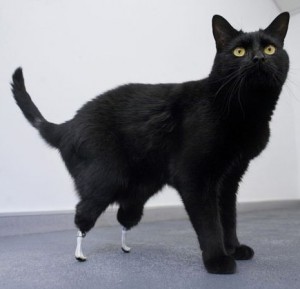 Oscar is well known to many after getting a lot of publicity for the groundbreaking implant surgery that gave him full use of his hind legs again after an accident with a combine harvester left him with stumps. Oscar's bionic feet were developed by Gordon Blunn and his colleagues at University College London's Centre for Biomedical Engineering, and his surgery was performed by Noel Fitzpatrick of Fitzpatrick Referrals.
There was initially some hope that similar implants might have been able to help Dottie, who lost her hind feet this year, but the Fitzpatrick Referrals team wrote to Dottie's caregiver saying that because Dottie has lost her ankle joints along with her feet, the surgery would lead to fractures and would ultimately fail to help.
As we can see, though, Oscar was the perfect candidate and nearly has the mobility of any other cat.
Oscar in his garden.
Doing a few bunny kicks with his red mouse toy.