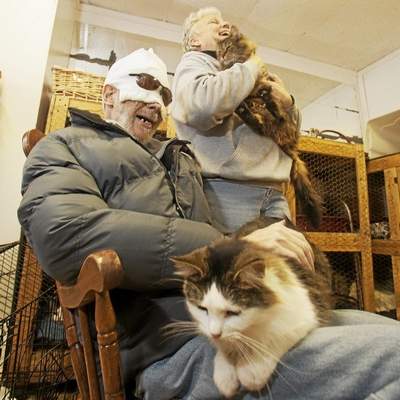 An Ohio man with terminal cancer finds comfort in his 'bucket list' visits to a cage-free cat shelter, where the felines flock to him and give their best cuddles and purrs.
While a 'dog person' until a friend gave him a kitty a little over a decade ago, 59 year old Tom Strong found he had an affinity for cats and took in many kittens being offered for free, spayed and neutered them, cared for them, and eventually found them homes.
Now a that Tom has had to leave his home to go into end-of-life care in a facility, staffers from Hospice of the Western Reserve take Tom from his residence at Carrington Park Nursing Home in Ashtabula to to sit and visit with the cats at Holy Cat Whiskers Rescue shelter in Madison Township.
"My fate is sealed," Tom is quoted saying in The News Herald. "But help the cats. Do something for the living."
This video from The News-Herald features Tom Strong on one of his visits to sit with the cats at Holy Cat Whiskers:
.
.
Jean Bonchak wrote a touching story for the News-Herald on Tom Strong and his visits to the cats: Madison Township shelter cats bring comfort and purpose to dying man's final days.
.
We discovered on a visit to the Holy Cat Whiskers Rescue Facebook page that the rescue is losing their building and needs to find a rental fitting the necessary conditions for operation soon or they will have to cease their work helping the cats.  A post at the page today celebrates the wonderful story on the good that Holy Cat Whiskers Rescue is doing for Tom Strong in his dying days. That post site above a post made yesterday that asks fans for help in finding the rescue and shelter a new home.
##
Holy Cat Whiskers' 'About' page states:
Holy Cat Whiskers is a 501-c3 non-profit organization.  We are a Trap-Neuter and Release program for feral(wild) cats. We adopt out kittens from our feral mothers and also the mothers. We have a shelter  in which we bring in injured, sick or pregnant cats.  However, we do not handle domestic cats . Our goal is to reduce the cat population and disease in our area. We provide housing and food for feral colonies and keep them under control.