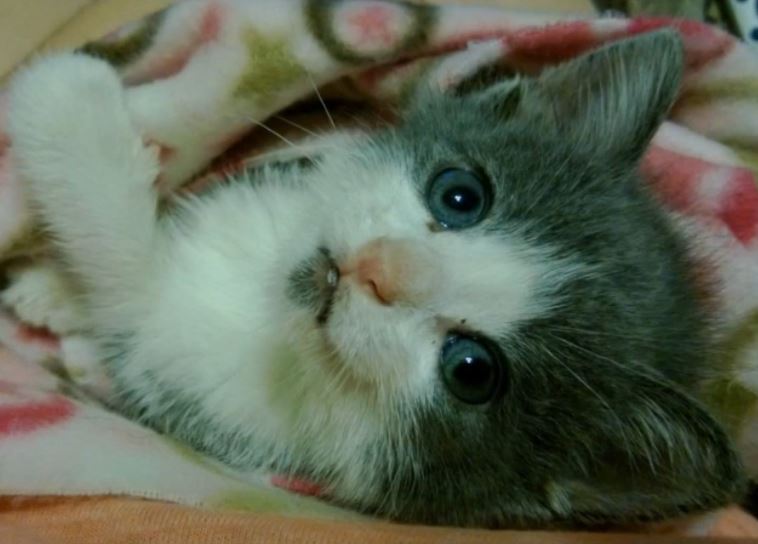 .
St. Louis, MO rescue organization Tenth Life's foster coordinator Bobbi Hale was the perfect choice to provide foster care earlier this year for a tiny paralyzed kitten named Jefferson. Bobbi helped Lincoln, The Formerly Quadriplegic Miracle Kitty, to walk using a physical therapy program, and then adopted him, and hoped to help Jefferson walk again, too.
Despite making good early progress and bonding with his loving caregiver, Jefferson, sadly, did not make it. He became ill from a virus three weeks after coming to Bobbi and his little body gave out before he could fully recover.
Jefferson was able to spend one last night with Bobbi, and even though his life was far too short, Jefferson loved his caregiver and knew that he was loved in return.
Jefferson came to Bobbi in July, but she is only now ready to revisit his story and share it with the world.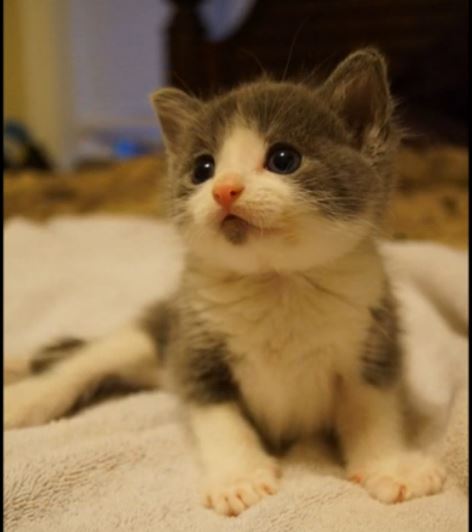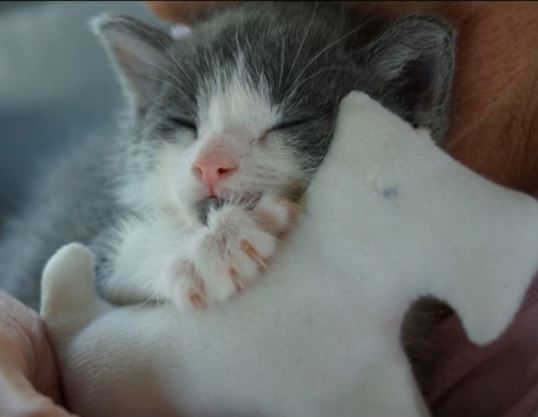 Bobbi Hale touchingly tells Jefferson's story at Lincoln's page and we share it here, along with Bobbi's loving video tribute to him:
Jefferson's Story, My 3 Week Journey with a Paralyzed Kitten
by Bobbi Hale
JEFFERSON came to us back in July. He had been paralyzed after being accidentally shut in a door and was set to be euthanized due to lack of funds by the owner,
before a vet tech familiar with Lincoln's story stepped forward. Through a mutual friend, she got in touch with me and with approval from Tenth Life Cat Rescue's director, I agreed to bring this kitten into my home with the hopes of rehabbing him the way that I did with Lincoln. I will never forget the first moment that I met him while he was being examined by one of our specialist vets. As I leaned down to talk to him (in the same baby talk voice that I used on Lincoln), he just stopped what he was doing and gazed at me with slow blinking eyes totally enthralled. It was as though he was thinking, "You don't look like a kitty, but you SEEM like a kitty". I think there was something in that moment of mutual understanding across species lines that I saw something similar to what I had seen in Lincoln and that may have partially led to giving him a name that was somewhat after Lincoln as we had high hopes that he would be following in his steps.
From the first moment at home, Baby Jefferson was full of energy and was very feisty. I remember going to nuzzle my nose against him and give him kitty cheek kisses for the first time after he ate and he chomped down on my nose. It turns out that he had a thing of liking to paw at my face and nibble on my chin as though he had fully accepted me as a kitty myself. In fact, when I would finish his therapy and put myself in front of him encouraging him to move with toys, he would always bypass the toys and come right to me. He loved playing with me and getting himself totally wrapped up in my hair. As the days went on, his rear leg movements were improving and the physical therapy seemed to be slowly working. In addition, he was starting to become more affectionate so that he would allow me a few minutes of cuddle time before he was like okay, let's play! In fact, he finally got to the point where instead of nibbling on my nose, he would rub his nose and face against mine like he was marking me as his.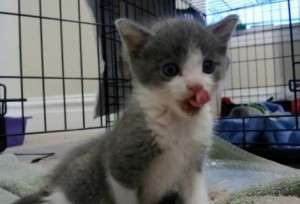 About 2 1/2 weeks, after he first came to me, I noticed he hadn't went poop in 24 hrs and wasn't interested in eating so I took him to the vet where he spent the next 4 days. There were moments where he was slightly improving, but then he would decline. When it was obvious that the vet had done all that they could and he required other care, I brought him home to spend at least one more night with me before taking him to the specialist clinic. I figured that if he was going to be miserable at the vet alone, he might as well be at home overnight where he would feel the comfort and love of his mommy. The vet had warned me that he was more lethargic, but as soon as they handed him over to me, he instantly perked up and wiggled towards my face. He seemed so happy to see me and I knew that I had made the right decision. Throughout the night, I held him with his head nuzzled against my neck while I slept minimally as I was always checking to make sure that he was okay. At one point in the middle of the night, he tightened up his paws on my shirt, pushed his head against my chin and started purring. In the midst of feeling sick, he felt happy and he felt loved. He was content and once again, all was right in his little world in that moment.
The next morning before I took him to the specialist clinic, I was lying on the bed talking to him unable to hold back the tears. As I started crying while talking to him, he perked up once again, pulled himself over to me as he often did and rubbed his nose and entire face against mine and then rested his face on my cheek as though he were comforting me. I've had a similar experience with the only other cat that I've ever had pass away in my adult life. In that moment, I knew that without a doubt, no matter what happened, Jefferson felt all the love that I had for him and he was happy that I was his mommy and that he had as much love for me back. Two days later, as I was expecting to bring him home the next day after he showed improvement, his little body could fight no longer and gave in to what they suspect was a virus. Although he was only in my life for 3 short weeks, the heartbreak that I felt for a kitten who likely would have been a permanent little brother for Lincoln was overwhelming. With each day though, the love that existed and the desire to honor him by continuing to help other special needs kittens fills in the cracks of the heartbreak although there will still be some tears mixed in with the smiles while thinking of him for years to come. As a quote of August Renoir that I came across says "The pain passes, but the beauty remains". After his passing, I personally paid for him to be cremated so that I could bring him back to the home that he knew and the home that he loved. He found his furever home with us.
.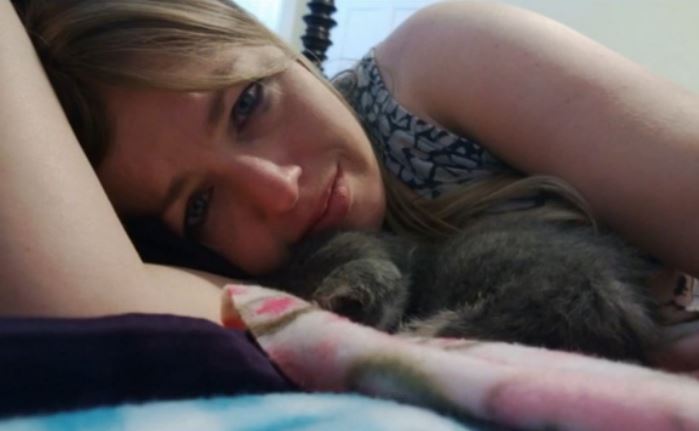 Tenth Life at Facebook
Lincoln, The Formerly Quadriplegic Miracle Kitty at Facebook
See more with Lincoln, Bobbi Hale and Tenth Life at our site.