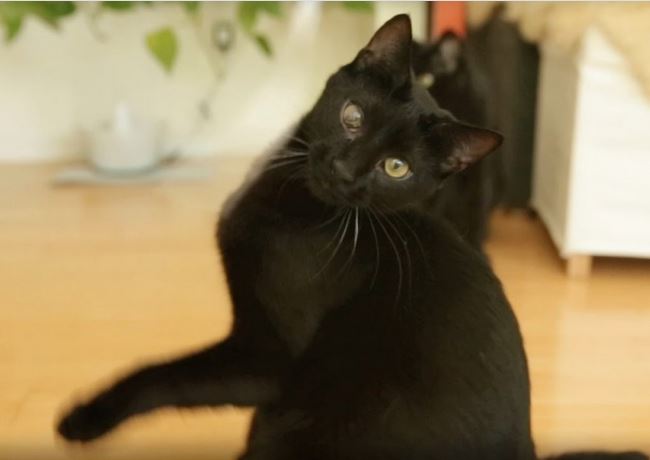 Olivia has had it rough, but is so sweet and unaffected by her troubles!
Olivia was surrendered by her owner, who had become homeless. While Olivia was homeless she became very sick with an infection.
Olivia's infection was caused by the herpes virus, which is difficult to fight in cats. The infection spread from one eye to the other.
Sante D'Or Foundation offered to rescue Olivia and save her life. Olivia's needs required round-the-clock care, so Sante D'Or Foundation set her up in a wonderful foster home.
Every day, Olivia's foster, Amy, remained hopeful that Olivia would get better. Olivia had lost sight in both eyes because of virus was so severe. With antibiotics, surgery and a lot of love, Olivia stood a chance.
In surgery, a graft patch was put in Olivia's eye where the infection left a hole. The surgery went well and just a week later Olivia had her stitches out and began to heal.
Throughout all of this, Olivia acted like none of her troubles amounted to much of a big deal.
Now, Olivia has regained her sight and can see what she is playing with. As far as personalities go, Olivia is just the best. She loves attention.
Olivia will have the herpes virus for life but she is healthier and happier than ever. Olivia is the perfect housecat and she is looking for her forever home.
Pet Collective made the video seen below, that shows Olivia and tells her story. Hopefully, the video will help her find her forever home.
The Sante D'Or Foundation is located in Los Angeles, California.
Watch Olivia's story: