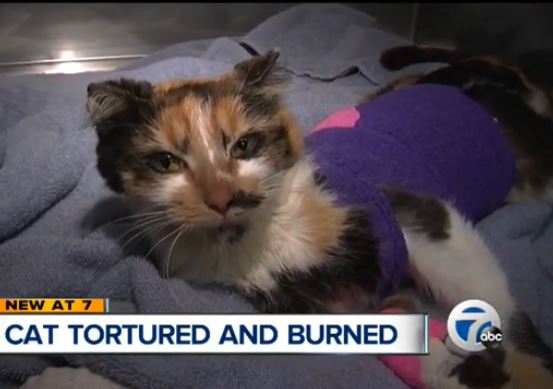 Hope is recovering from terrible abuse injuries, thanks to the woman who found her and the organization that has taken responsibility for her care.
Hope is a 7 month old kitten found a couple of weeks ago near a dumpster in Inkster, Michigan, with severe burns on her back and sides.  The 85 year old woman who found Hope took her home and tried to help her  but, due to the severity of the burns, turned her over to Livonia  organization Tail Wagger's 1990 so she could get the care she needs to recover.
Tail Waggers 1990 "is committed to helping people help animals," by providing assistance to pet owners in need and helping animals in emergency situations.
"In my 25 years of doing animal rescue and helping animals in need, this is by far the most severe, sadistic, and sickening animal cruelty that I have ever seen. Whoever would get their thrills out of torturing a cat like this needs to be punished" said Tail Wagger's Founder Laura Zain.
"I just wanted to cry. Who would do something like that?" says Tracy Howard, vet tech supervisor at Sheehy Animal Hospital.
Hope has had surgery to help with her healing and she is expected to make a good recovery, but there will be ongoing medical needs and expenses over the course of the recovery process.
Tail Waggers has reached out to the local community asking for help, and Hope's story has been covered on local media.
"We're not gonna stop until we can show her what's life's really all about," Zain said of the beautiful little cat.
It will be quite some time before Hope is available for adoption.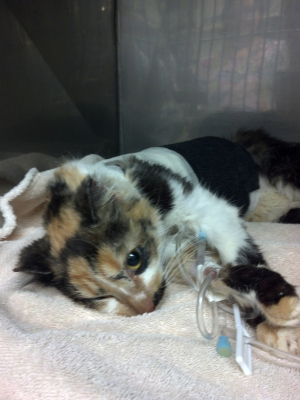 Tail Waggers posted this appeal that tells Hope's story at their website:
We get to meet Hope in the news report from WXYZ Channel 7 Action News: