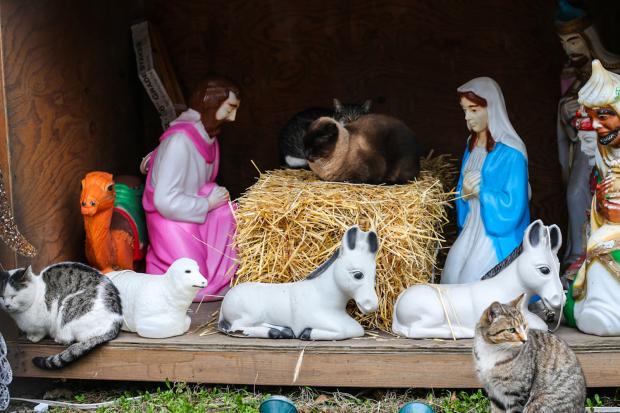 .
New York photographer Rafael Lopez Jr. reported last week on the story of a nativity scene in Red Hook, Brooklyn that is populated by a small colony of feral cats who delight passersby as they sit nestled in the creche along with the usual figures.
According to Lopez, sisters Annette and Susane Amendola have set up the nativity scene in a vacant lot they own for at least the past 10 years. The creche structure is brought up near the street at Christmastime and sits at the back of the lot for most of the year, doing double duty as a shelter for the cats, who continue to claim their spots alongside the nativity figures when they are put on display.
Lopez reports that the baby Jesus is set out in his place of honor on December 25, but has to share his spot on a bale of hay with the cats. Annette Amendola says the baby Jesus gets knocked off by the cats, who like to keep the prime spot on the bale of hay for themselves.
Sue Amendola is quoted saying: "People love it, but they really get a laugh out of the cats."
The story and its appealing photos are going viral, and it's easy to see why.
For the full story and more photos, visit the original post, from December 7, at RLJR News HERE.