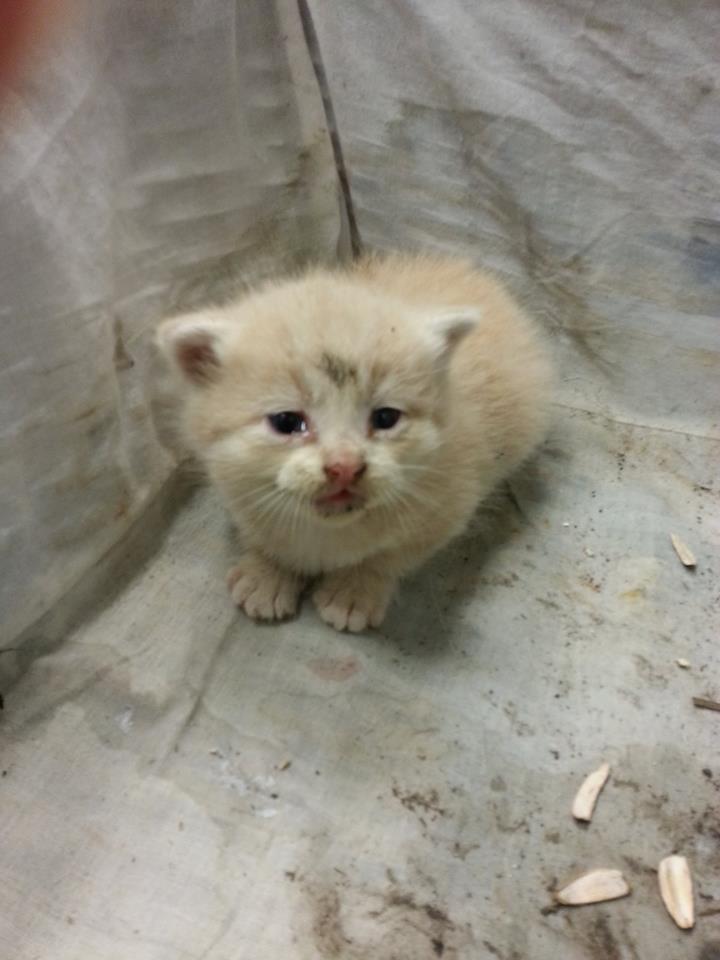 Construction workers at a work site near the The Animal Rescue League of Iowa's main campus in Des Moines made a disturbing discovery and saved a little life Wednesday.
The construction crew was tossing broken concrete pieces into a dumpster when they heard meows. The workers climbed into the dumpster and found three tiny kittens who had been abandoned there, then they rushed the kittens to the Animal Rescue League.
One of the kittens was so badly injured he didn't make it to the shelter. A second kitten was also badly injured and, while everything was done to save him or her, that kitten also died.
The third kitten is doing well and is expected to survive and thrive. Kitty is having trouble adjusting to the loss of his siblings, though.
The photo at top shows the surviving kitten before he was given a bath at the shelter yesterday.  The Animal Rescue League said at the time: "This little guy is giving us hope that he's going to pull through."
The photo and news of the abandonment and rescue generated a lot of commentary online, with prais and many thanks given to the rescuers, and condemnation of those responsible for putting the kittens in the dumpster.
The kitten is in foster care with Thomas and Jodie Jasper, who participated in a comment thread conversation about the kitten and the dumping incident at Animal Rescue League of Iowa's Facebook page.
Thomas Jasper wrote: "My wife and I are fostering the little guy. He has a good appetite and is alert and curious. He has even peed a bit.
"I think he will pull through this and be a great candidate for adoption."
Jodie Jasper responded to those hoping the kittens were not intentionally dumped, writing: "They were in a basket, I don't think the mamma cat could get a basket into a construction dumpster to birth & raise kittens."
Jodie added, "[I'm] trying to get him acclimated to bottle feedings, warm cloth bathings, being alone (he is having a tough time with that). He seems to be faring well though."
The Animal Rescue League made an update on the kitten today, writing: "This little guy is now in a foster home where he's receiving a lot of TLC and being closely monitored for his progress. His foster home reports that he cried all night, so much so that he lost his little voice."
The shelter promised to reveal kitty's name at Facebook soon.