Today, "Clark kneading his towel in anticipation of food! Yay, food! It's his favorite."
For anyone not familiar with his case, Clark Kent was  found, sick, abandoned and near death just over two weeks ago. Philadelphia rescue group City Kitties took Clark in when good Samaritan James Buckley picked him up from the gutter and saved him. The Cat Doctor has been caring for Clark since then.
The Cat Doctor has shared a few photos of Clark since his surgery of last week to remove a rusty metal object from his stomach, but has not given a full report of the outcome of the surgery and Clark's prognosis. Those following Clark's case have wondered if his red blood cell count has risen since the surgery and whether his overall condition has improved, worsened or remained stable.
Brief  updates today from City Kitties and The Cat Doctor indicate that while it is still not known whether Clark will have long term health issues from his ordeal, he is doing well since his rescue and his surgery.
Clark sleeping curled up into a ball. Posted earlier today.
In recognition of the great interest in Clark and his condition, his doctors reported this afternoon that,
"He's stable, off fluids, and eating well. He isn't having daily labwork at this point, but is on the schedule for a recheck later this week."
City Kitties Rescue also posted today, saying, "He is definitely doing much, much better! But we still don't know if he will have long-term health problems. While he is stable, his anemia and kidney issues could continue, which could require medication and other care."
The captions to two photos posted to The Cat Doctor's Facebook page yesterday both noted that Clark was getting harder to photograph because he wouldn't stay still, a sign interpreted more as feistiness than agitation.
It seems that this information will have to suffice for now, until the doctors are in a position to say more.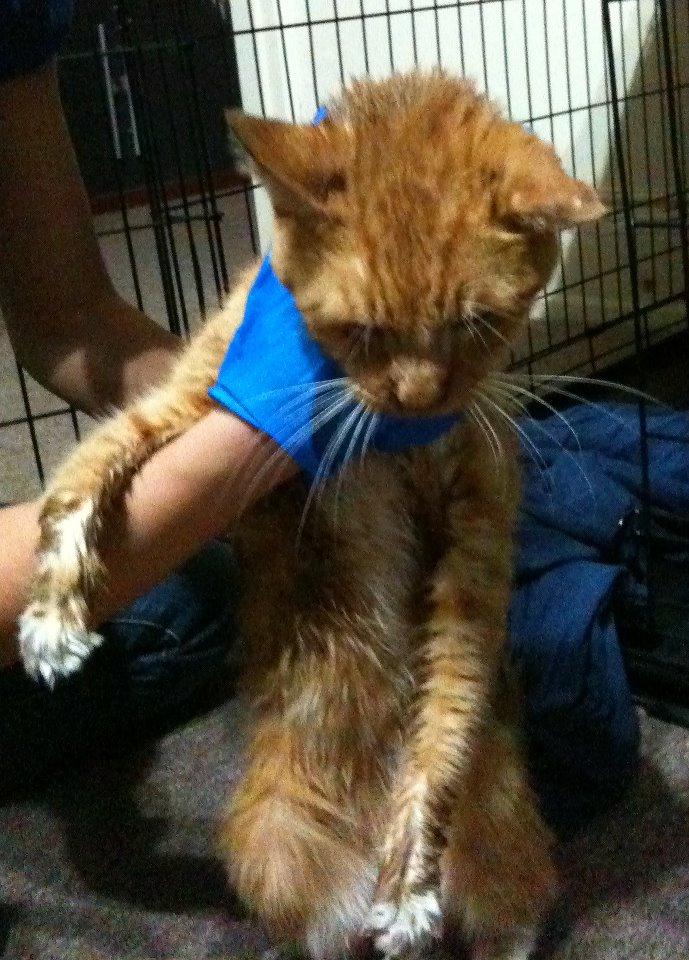 Clark when first found.
If we compare the photo above taken when Clark was first rescued – skinny, sick, and with a dangerously low body temp – with the pictures from today, we are reminded that the formerly abandoned cat has come a long way in a little over two weeks.