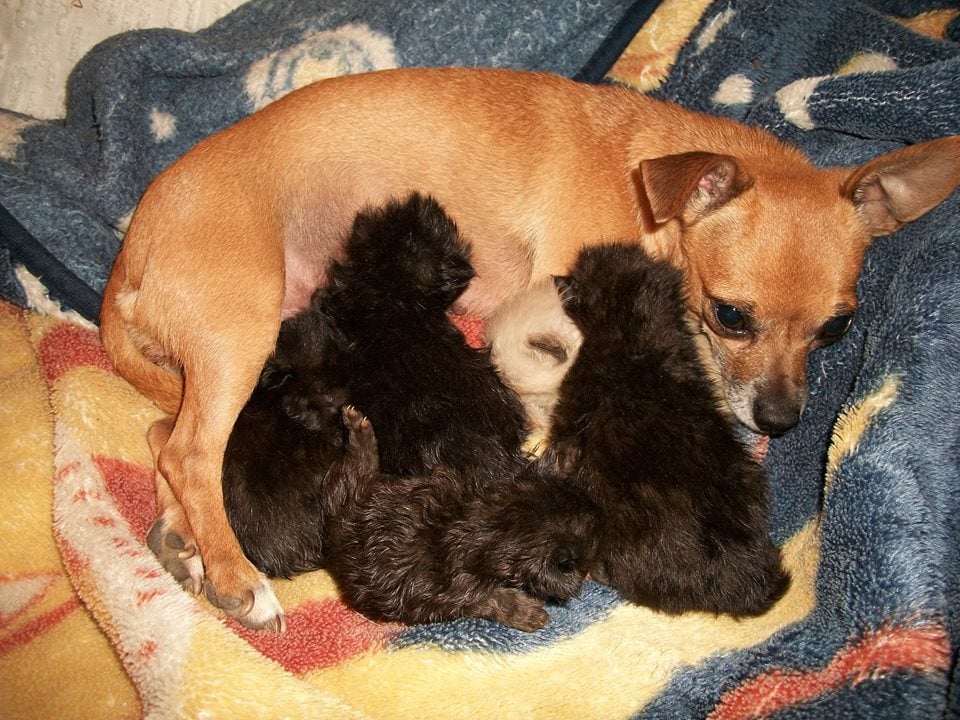 .
After Penny the Chihuahua gave birth to a stillborn puppy she was able to express her motherly instincts by adopting a litter of orphaned foster kittens.
Penny's petdads Dale Fulk and Jeffery Mullins say she was obviously morning the loss of her little one and they set out to help, calling around to find a baby animal in need.
Dale Falk told Channel 3: "[Penny] pretty much cried all night [after giving birth to her lifeless puppy]and needed to stay with somebody and you could see the tears, literally she had tears coming down her eyes."
Jeffrey said, "To see her mourning, it was, it was really a mourning for her baby that wasn't going to come back."
Cat's Cradle shelter in Harrisonville, Virginia said they had a litter of kittens without a mama.
"So I thought, 'Why not?" Stranger things have happened'," Jeffrey Mullins told WHSV channel 3 News.
Penny immediately adopted her kitten babies when they were brought to her.
"It gave her what she was looking for; it was almost immediate that she turned around 100 percent," Jeffrey said, adding "There's no boundaries on love."
Matt Chan from Cats cradle said: "It's gratifying to see, because it shows that you know humans aren't the only ones with compassion. Other animals have it. Dogs have it. Cats have it."
Cats Cradle told the story at their website, writing: We received a call from Jeff and Dale, whose dog Penny had had a stillborn baby on Sunday and was inconsolable. Jeff called us with grave concern for his dog because of how upset she was and asked if we had any newborn kittens who needed a mother to suckle on. It turned out we did! Jeff and Dale became official fosters for us and picked up the kittens, who bonded immediately with Penny, whose grief has been overcome with happiness! Here's what they said afterwards:
"It was a total success!!!! She took all of them and couldn't be any happier! Her name is Penny and she has only left her babies to get water, use the bathroom and a quick snack… then it's right back!"
Thank you Jeff and Dale—-and PENNY–for fostering these kittens!! We'll share all the pictures you send us! -Matt
Watch the Channel 3 report on the story:
.