Cat lovers from Texas to Long Island teamed up to save a household of four cats in the aftermath of Superstorm Sandy.
Texas resident Joan Addison wrote us today about the rescue operation: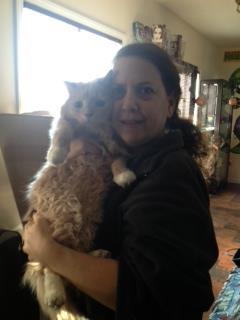 On Thursday November 1, I learned that my sister's friend Judy who lives in Island Park, LI, NY had lost everything when the storm surge came rushing in.
She put her four cats who she loved dearly in the bathroom on the second floor. She stayed nearby with friends at a hotel that didn't have any electricity, hot water or heat so that she could be near her cats and be able to feed them.
Her cats were scared and were fighting each other in the bathroom. She was afraid that they might get sick from the mold, etc. from the flood waters that came into her home.
Having lost everything except her precious furry family, Judy was numb, in shock and frightened.
I knew that if she had a temporary safe place for her cats that she could start trying to get her life back on track.
I reached out to some of my cat loving friends in the NY area asking for suggestions. One friend, Jackie, suggested I contact Save-A-Pet Animal Rescue on Long Island. She had adopted two cats from them and spoke very highly of them. Jackie is the woman who adopted the cat Clark Kent who was left out to die on the street in Philadelphia by his owners in 2011. We all connected when we were all helping Karen Pascoe find her cat Jack who was lost at JFK.
Not being able to get through on the phone lines, I sent an email to Save-A-Pet Animal Rescue LI – shown below.
Hi Dori,
I realize how very chaotic things are in NY now due to Hurricane Sandy and hope that things get back to normal quickly.
I am hoping you can assist me with suggestions to help my sister's friend. Her house is in Island Park near Long Beach in Nassau County. The first floor is totally
flooded and her 4 cats are in a dark bathroom on the second floor. She is periodically going there to feed them but is real concerned about their health, etc. in such conditions. She has lost everything and is scared.
She knows about the Emergency Shelter that has been set up for Pets at the Mitchell Athletic Field in Uniondale but is concerned about them sitting in
kennels in such a place.
Do you know of any other options she might have for her poor little furry kids?
Thanks a million!
On Saturday morning I received an email from Save-A-Pet owner and founder Dori Scofield. She said she was so sorry for all these poor displaced animals and was sharing my email with a few rescue friends for ideas.
Saturday evening I received an email from Dori. She said that she would take the cats into her home until she could find a foster for them. I then put her in touch with Judy.
Dori picked up Judy's four cats Monday afternoon. They are safe now, and as soon as Judy gets back on her feet she will be reunited with them.
I was so relieved when I learned that Judy's cats were safe.  Judy really liked Dori.
This is the website of Dori's organization www.saveapetli.net They are located at 608 Route 112, Port Jefferson Station,
NY 11776, Phone Number (631) 473-6333.
**
Photos via Save-A-Pet on Facebook.
Joan Addison has been actively involved with many cat related causes and cases both offline and online. She was a significant force helping the Whiskerville cats after their seizure from a Texas City, TX "sanctuary" this past January, and advocating for justice for the cats.  She organized a ChipIn to help with the cats' medical care and to provide supplies for their care and rehabilitation. She operates the Galveston County Furry Friends Need Homes Facebook page to get area cats into homes and save them from death at the shelter.