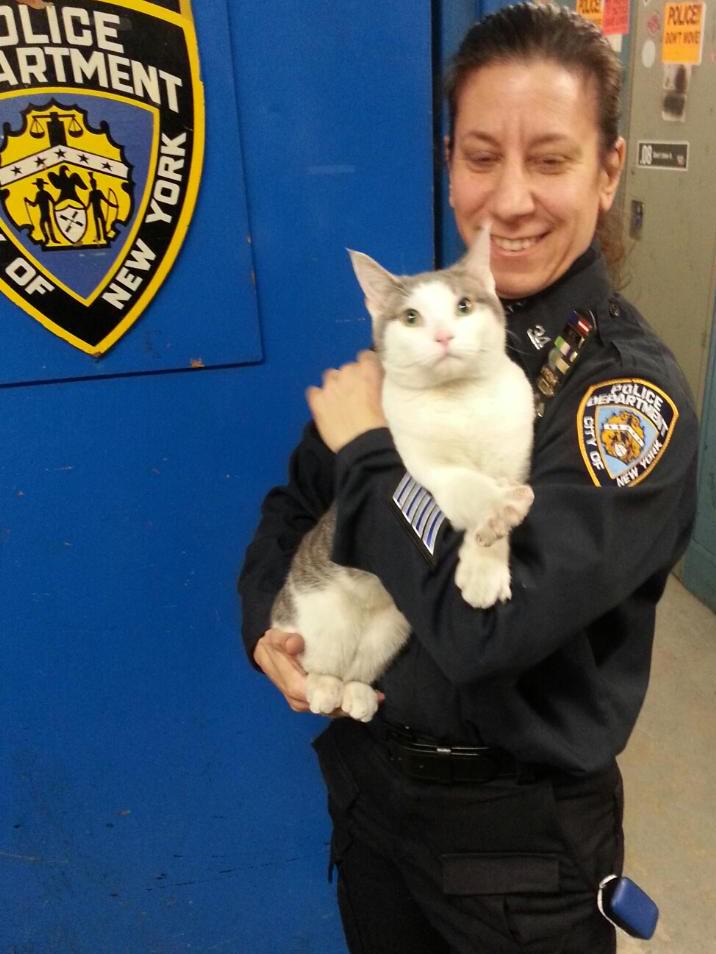 .
Frankie the cat caused quite a stir when he walked into an upper Manhattan police station late Monday night.
The 34th precinct in Washington Heights shared a photo of the handsome white and gray cat at Twitter, saying: "This cat walked into the 34 Pct today. Officer Andrea DiNella would like to know if anyone is missing him #uptown."
Officer DiNella told NBC 4 New York Tuesday, "He looks like he came from someone's house. He was very clean, his paws [sic – claws] were not long, he had a great disposition, didn't bite. Very friendly."
Officer DiNella named the cat, who is about 10 months old,  Frankie. Rather than turn him in to the NYC ACC, DiNella took him to Regina Galente, who runs the local rescue group Adore-a-Bullie Paws and Claws. If his owner does not claim him, Frankie will be made available for adoption from the group.
Precinct officers were all sad to see Frankie go, NBC 4 reports.
"Everybody loved him. We didn't want to see him go," said DiNella.
Adore-a-Bullie Paws and Claws shared Frankie's photos and story at Facebook Tuesday, saying:
"This is Frankie! He was in lock up at a police pct in the Bronx today! He is a 10th old male kitty that needs a home! The police released him to our custody and he has been ordered to find a home. He will be fully vetted and up for adoption by Tuesday of next week. He is super sweet and lots of fun! Please help Frankie stay out of jail by applying for him today! http://www.adore-a-bullie.org/#!adopt-a-cat/cbxf."
.
.
.
.
.
This cat walked into the 34 Pct today. Officer Andrea DiNella would like to know if anyone is missing him #uptown pic.twitter.com/higuggrAMt

— NYPD 34th Precinct (@NYPD34Pct) March 23, 2015