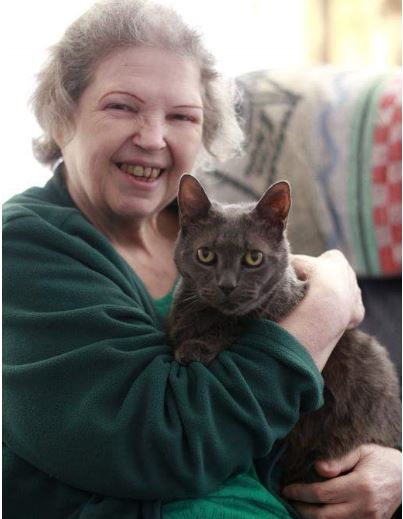 75 year old Erna Pratt was unable to use the phone or call out loudly for help when she suffered a stroke on November 20, 2013 while bending over to pick up a butter knife that had fallen to the kitchen floor. Her 13 year old Russian Blue cat Trigger came to her side, showing concern, and went to fetch help.
Ms. Pratt lives with her grown daughter Mary in the Springfield, MO area, and was alone in the kitchen with Trigger when the massive stroke episode occurred.
"I tried to take a step and discovered my feet wouldn't work," Ms. Pratt said. "I couldn't move my legs. I tried calling Mary. She was in her room asleep. I couldn't make my voice loud enough."
Trigger was nearby meowing.
"She has the cutest little meow," Ms. Pratt said. "I said, 'Yes, baby. Mom needs help. Can you go wake Mary up?' "
Trigger left the kitchen and went down the hall toward Mary's room, meowing loudly all the way and getting Mary's attention in time for her to call 911 and get Erna to the hospital for treatment with a drug that dissolves blood clots. If the drug is administered in time, it can save brain tissue from dying.
When Erna received the drug, her daughter was able to see the effect, as the distorted side of her mother's face returned to normal.
When Erna came home from the hospital two weeks later, she thanked her cat for coming to her aid in her time of need.
 Here's more on the story, from the Springfield News-Leader: