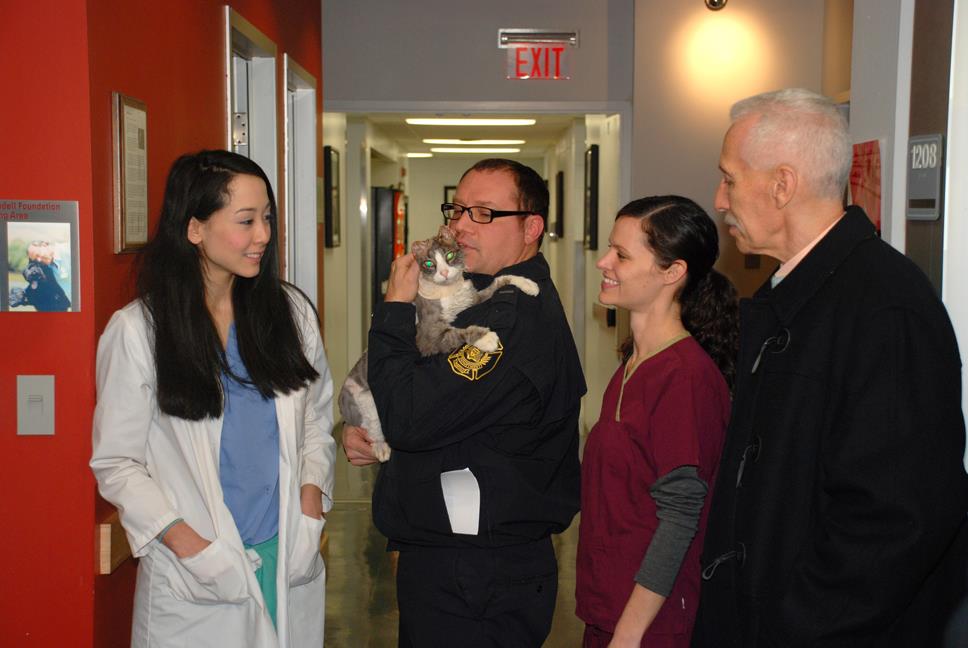 .
Campbell, the cat whose story made the news after he was set on fire on a Philadelphia street last month, went home from the hospital last night with the firefighter who has adopted him.
When Campbell was released from the University of Pennsylvania School of Veterinary Medicine's Ryan Veterinary Hospital last night, Penn Vet wrote at Facebook, saying:
"Campbell Paslawski left the the Ryan Veterinary Hospital tonight with his new guardian, Lieutenant Stephen Paslawski, a Philadelphia firefighter. Campbell was rescued by the Pennsylvania SPCA after being tragically set on fire, and then received surgery at Ryan Hospital. After hearing Campbell's heartbreaking story, Lt. Paslawski reached out to the PSPCA about adopting Campbell."
Campbell was doused with an accelerant and set on fire in the Olney section of Philadelphia on November 10, 2013 by two young men who were captured on CCTV footage while walking down the street after the incident. The PSPCA released still images and the video, and the pair were identified and chared with animal cruelty. If convected, they could receive up to 10 years in prison.
Campbell's adoption was announced late last month and the recovering cat was finally ready to go home from the hospital yesterday.
The cat's burns covered more than 60 percent of his body, and he's had two surgeries in the past month to help him heal.
"He's very easy to work with and to treat. So I have every hope that he's going to do very, very well," Chloe Wormser of Penn Vet's Ryan Hospital said.
"He just wants to be loved and that's it. It's pretty much what any animal wants," Lieutenant Paslawski said.
See our earlier posts for more on the story:
PSPCA Needs Help Identifying Suspects in Cat Set on Fire, $2000 Reward Offered and Cat Set on Fire to be Adopted by Philadelphia Firefighter
.