California is poised to release cute pet lover's license tags that will raise money for low-cost spay/neuter programs and promote awareness, while celebrating pets. As of April 1 they had 4,043 of the 7,500 preorders needed to make the plates and activate the program.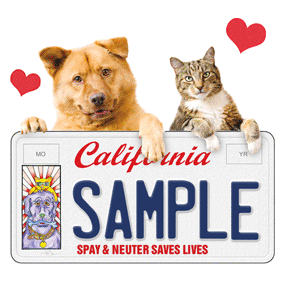 A California Pet Lover's License Plate website has all the details California residents need to understand the spay/neuter program and place their orders for the special plates.
The plates and associated low-cost spay/neuter funding got some press and promotion in May of 2011 and then again in early December, but orders are lagging. The cute dog and cat design on the plates is created by actor Pierce Brosnan and shows a colorful representation of his own dog and cat, Shiloh and Angel Baby.
Time is now crucial, as California residents have until June to place their orders for the
plate, or it and the spay/neuter funding program will not go through. Fund president and veterinary board member Judie Mancuso says she may be able to get the deadline extended. Anyone who has purchased plates will have their money refunded if the plan fails. Promoters are not giving up, though, and are mounting an effort to bring more animal lovers on board. Petco is now promoting the effort to get the plates on the state's cars by handing out fliers at their stores.
While the license tags are for California residents, animal lovers from all over can purchase items from  bumper stickers to high quality giclée prints of the artwork at the site.
Video from the unveiling o the Pet Lover's license plates: