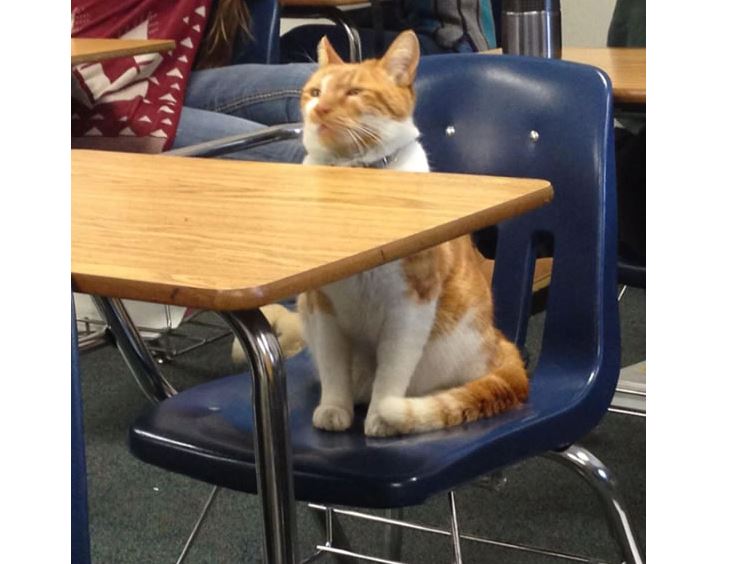 .
A cat from San Jose, California has become such a fixture at a local high school he has been issued a student ID and has a Facebook page devoted to his life as school mascot.
Bubba lives with Amber Marienthal and her family just behind two neighborhood schools – Leland High School and Brett Harte Middle School. The family tried to keep him as an indoor cat after adopting him in 2009 but ultimately relented to his insistent meows and desire to go out. Rather than spend his time wandering or hunting, Bubba decided what he liked most was visiting the schools, where he is welcome to hang out, walk the halls and make himself at home.
Bubba has a Facebook page filled with cute photos showing him in his daily routines at the schools and at home.
He is featured in a story in the San Jose Mercury News on the occasion of his getting semi-official status with his own Lelend High School student ID.
Amber spoke with the Mercury News, telling them she maintains Bubba's Facebook page. Bubba's fans and friends would like to see more of him online, but Amber is not sure how much of her own life she can devote to her cat's doings.
"People want me to get him on Instagram," she said. "I only have so much time to devote to my cat's social life."
Bubba's time at the two schools has been without incident except for once, when he got locked inside a classroom for 36 hours.
Amber also related an anecdote about a teacher who made what in retrospect was a mistake when she bought Bubba some treats, leading him to come and sit at the classroom door meowing for treats.
Amber's two sons attended Brett Harte and are both at Leland now, where Bubba spends most of his time. She says she expects Bubba to continue his school days after the boys have moved on.
See more of Bubba the Cat at Facebook. The page is "dedicated to informing Bubba's many admirers of his fascinating activities and legendary lifestyle."
.

.
.
.
.
.
.
.