Bronco was rescued by a good Samaritan who found him in a school parking lot in Burrillville, RI last Friday, suffering injuries that suggest he got caught in a car's fan belt.  The town's animal control officer showed compassion toward the little kitten and made sure he got help.
Bronco was taken to the Northern Rhode Island Animal Hospital for treatment and, after surgeries to amputate his damaged tail and to repair his lip, he is resting up at the shelter for a week or so before heading to his forever home, with the family that rescued him.
Members of the community sent their good wishes of support for the kitten and donated toward his medical care.
Burrillville, RI Animal Control shared photos, along with Bronco's story, at Facebook on December 20, saying:
"This kitten is currently in surgery so that he can be saved. He was found around 5:30 pm this evening at Burrillville Middle School. Despite his pain and severe injuries, he was friendly and purring, wanting to be petted. He is only about 12 weeks old. We made the decision to move ahead with surgery, but we will need help to cover the expenses. We've named him "Bronco"."
The creative and compassionate staff at Animal Control continued the story in verse:
"'Twas the Friday before Christmas, and it was dark and cold out,
Bronco is badly hurt, and needs you to help out.
He was found at the Middle School, with no where to go,
But nice people called us, and wrapped him up from the cold.
We believe that poor Bronco, was caught in a car fan,
He's at the vet now, but could sure use a hand.
His tail's been degloved, and his lip is detached,
His tail's being amputated, and his lip reattached.
We know money's tight, especially this time of year,
But we had to save him, nothing less could we bear."
We won't show the photos of bronco's little tail … they caused us to wince. Suffice to say, the tail retained its length but appeared to be red and raw and stripped of its fur.
Animal Control made an update on Bronco aka Franklin after his surgical procedures, the following day, December 21st:
"He is stable and will be spending the weekend at the hospital so that his condition can be monitored and he can be observed for any possible incontinence issues or nerve damage due to the trauma to his hind end. His surgical areas are doing well; and hopefully, he will be released from the hospital on Monday. Although groggy from his medications, he is purring and in good spirits."
"When Bronco has recovered, he is being adopted by his rescuer! The family that kept him warm and safe while waiting for me to arrive is planning to be his forever family. This family has adopted from us previously and will give him a wonderful home. His new name will be "Franklin"."
Yesterday, Animal Control wrote:  "Bronco (aka Franklin) has been released from the hospital. He is recovering nicely and is in great spirits – sweetest and happiest little kitten ever! He will remain with us for another week or so before he moves on to start the new year in his new adoptive home with a wonderful family."
ABC6 News from Providence, RI covered Bronco's story, reporting on the day of his surgery, and again today.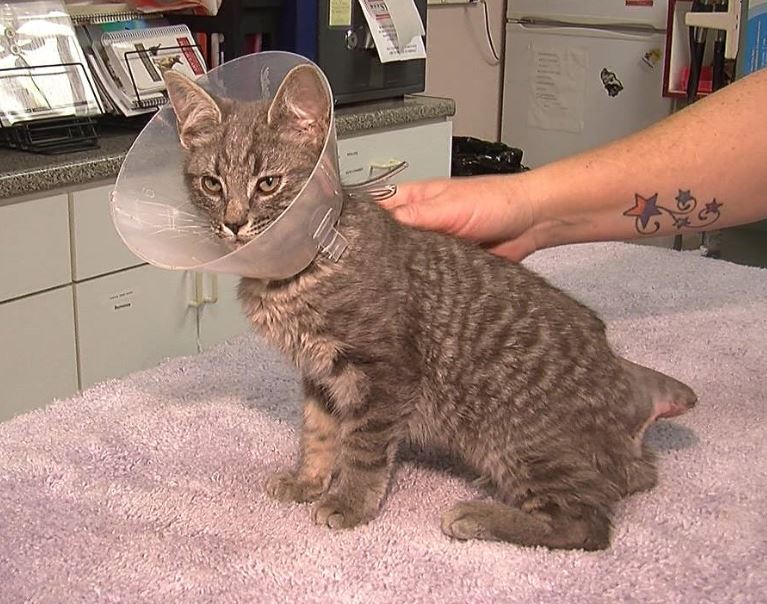 <via>