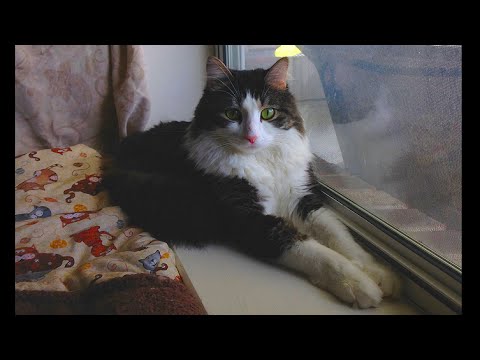 .
Our friend Anakin the amazing 2 legged miracle cat – born without a pelvis and hind legs – is back with a new video after several months.
Ani's petmom and rescuer, Carrie Hawks, writes: "Almost every morning after the sun comes up Anakin climbs up into the window sill next to my side of the bed. He paws at the window and blinds until I get up and open the blinds for him. Ani loves to sit in the window and watch outside."
Carrie Hawks is rescuer and petmom to Anakin, the miracle cat born without a pelvis or hind legs. Anakin was rescued in 2012 when Carrie found him as a small kitten, all on his own, coming to eat at a feeding station behind her father's place of business. Anakin is in good health, despite his unusual condition, and leads a full and normal life.
Watch:

.
.
Carrie writes about Anakin, saying:
"Meet Anakin! Ani is a two legged cat, born without a pelvis or back legs but that doesn't stop him. He is full of love & life! My family and I rescued Anakin and I am caring for him. Also Meet Mika! Anakin's New Brother from another Mother! We rescued Mika from a Texas Animal Shelter. Mika was born with 3/4 of a tail, all of one back leg except for the actual foot part where the pads and toes would be, and his other back leg stops a little ways past his knee and just rounds off at the end. My family and I are lifelong animal lovers and will give Ani & Mika the absolute best possible home, love and care."
For more with Anakin and Mika at our site, click HERE.
Anakin and Mika's daily life is chronicled at the Anakin the Two Legged Miracle Cat Facebook page, and in a blog, in addition to their YouTube channel.