Study raises false alarms even as researchers acknowledge drop in incidence of toxoplasmosis among adults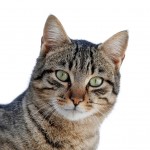 BETHESDA, MD—Alley Cat Allies, the nation's largest advocacy group for cats, today denounced a study that grossly exaggerates the health threat to humans from toxoplasmosis parasites that may be present in very small amounts in cat feces.
"This is fear-mongering, plain and simple. The study produces no hard evidence of cat-to-human transmission of toxoplasmosis," said Becky Robinson, president and co-founder of Alley Cat Allies. "The researchers base their conclusions solely on estimates of the amount of cat feces deposited in sandboxes outdoors. In fact, you are more likely to contract toxoplasmosis from eating undercooked meat than from touching a cat."
Statistics from the Centers for Disease Control and Prevention show that cats are rarely the source of toxoplasmosis, an infection caused by the parasite Toxoplasma gondii, and that people are unlikely to get sick from touching or owning a cat.
The study, "Toxoplasma oocytes as a public health problem," appeared this week in the journal Trends in Parasitology. Researchers acknowledge that there has been a decrease in the incidence of human toxoplasmosis among adults in the United States over the past two decades. They also acknowledge that reasonable and simple precautions like washing hands after gardening can reduce the risk of contracting the parasite.
Robinson pointed out that cats have coexisted with humans for tens of thousands of years, and across the United States there are hundreds of thousands of caregivers who look after feral cat colonies.
"Alarmist studies like these only result in dangerous consequences for healthy cats," Robinson added. "Already more than 70 percent of all cats—and 100 percent of feral cats—are killed in shelters. We don't need yet another war on these innocent creatures. We need a common sense approach starting with Trap-Neuter-Return which reduces the cat population without any killing."
###
About Alley Cat Allies
Alley Cat Allies is the only national advocacy organization dedicated to the protection and humane treatment of cats. Founded in 1990, today Alley Cat Allies has nearly half a million supporters and helps tens of thousands of individuals, communities, and organizations save and improve the lives of millions of cats and kittens nationwide. Their web site is www.alleycat.org.
<via>