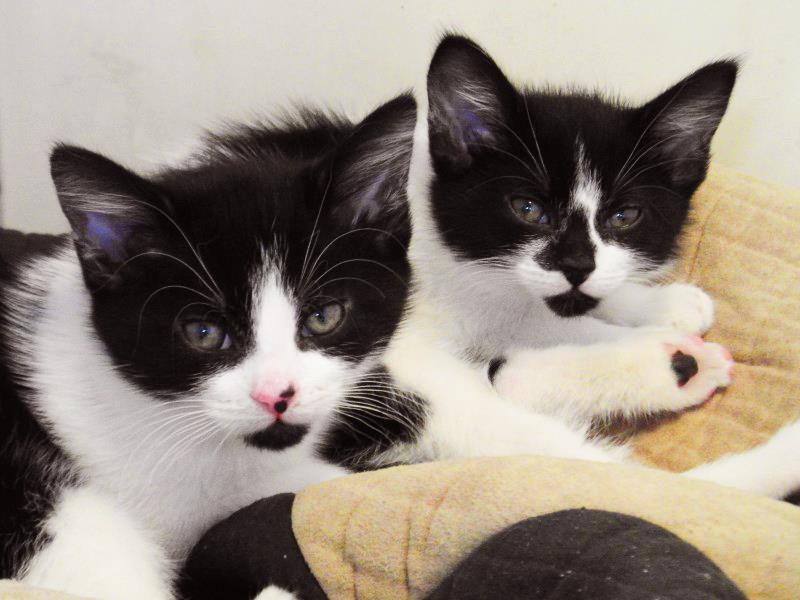 This adorable and friendly pair of kittens found abandoned in a graveyard were rescued before they had to spend too much time learning to fend for themselves while avoiding animal predators. They are now safe in the care of  The Mayhew Animal Home rescue and rehoming centre in North West London, UK.
The Mayhew Animal Home tells the story:
Meet Bubble & Squeak. These two tiny kittens had a very lucky escape after being rescued from a graveyard by the Verger of St Mary's Church in Neasden.
The ten week old kittens were seen being chased around by local children so a member of the public knocked on Mr Lane's door to alert him of the animals in danger.
The Verger, Mr Lane, said: "After noticing the children running around after the kittens, one of the parents from our local school came to enquire as to whether they were my own cats. Knowing that there are a lot of foxes in our graveyard I wanted to see if I could find the kittens to prevent any harm coming to them. I thought they may have been feral kittens and a little wild, but as soon as I called them they came running over and were so friendly and had clearly been cared for by somebody recently. We kept them in our cottage overnight before bringing them into The Mayhew and they were so lovely to have around, sweet and playful. I'm very glad that we were able to get them out of harm's way."
We've seen a spate of kittens being dumped and abandoned recently and, as breeding season begins to peak, many members of the public are calling the our Animal Welfare Officers to ask for help with young litters found in their garden.
The Mayhew's Animal Welfare Officer, Paul Grimes, said: "We're very grateful to Mr Lane for taking immediate action to save these two kittens who would have been so vulnerable to dangers in the graveyard. They are such a friendly pair that it is clear they have been owned and have been purposely dumped at the Church as there are no houses nearby. There are so many unwanted kittens arriving with us daily that we urge anyone to approach us for help rather than abandon their animals in an environment which may cause them to face a terrible and frightening death."
We also remind pet owners that neutering their cats is vital in order to reduce the stray and feral kitten populations. Unneutered owned cats will go outside and breed with local stray and feral cats, leading to litters being born in gardens and abandoned buildings that are vulnerable to the outside elements.
<via>