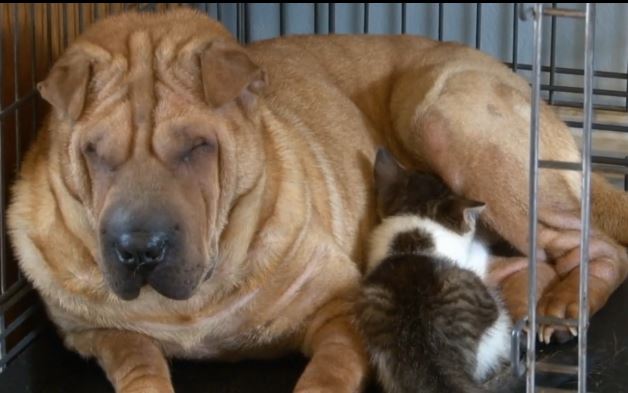 Tennessee's WBIR Channel 10 news visited Kodak resident Shirley Brandt recently for a feature on a specially bonded dog and kitten pair.
Shirley was concerned that Ba Boo, her Shar Pei, would be unwelcoming to the abandoned kitten her daughter brought home after finding it in a Kroger parking lot. Ba Boo surprised her petmom by being friendly and playing with the kitten, a little girl the family named Ally, and after a few weeks it became clear that the dog and her new kitten friend had become a devoted mother-daughter pair.
Even though she'd never had puppies, Ba Boo began lactating in response to the kitten's snuggling, kneading and attempts to nurse.
Ba Boo also cleans her kitty, disciplines her and is very protective of her.
What does the future hold for the unorthodox mother and daughter? "We're planning on keeping them together," Shirley said. "They seem very content. She looks at me very serious when she nurses like this is so serious, I'm caring for my baby."
Shirley talks about the pair and we see Ba Boo and Ally together in Channel 10's feature story: