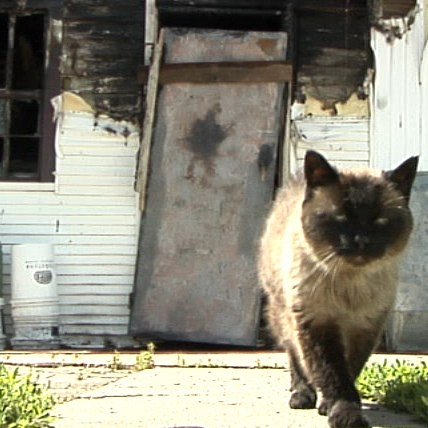 .
A 17 year old cat named Ashton is being credited with saving his family and his fellow pets, along with their home, when he woke his petmom to alert her to a fire burning in the garage.
The fire broke out at the Marko family's home in Aberdeen, South Dakota late last Saturday night.
"It was coming out that back door [of the garage] when the firemen arrived. Flames were about 4 feet high," Terry Marko said.
Mr. Marko and his wife say they owe their lives to Ashton and his persistent and uncharacteristic behavior that night.
"We'd gone to bed, and this cat started nudging my wife in the face. She told him, 'Ashton, leave me alone, I want to sleep,' and she sat up in bed to put him on the floor. Then she said 'there's smoke in the house!'" Terry said.
The Markos say Ashton is well known to rub up against people but he has never nudged at someone's face before. They're certain he was alerting them to the fire.
Ashton not only saved himself and his petparents, he saved his fellow pets; two dogs and another cat.
Firefighters used a pet oxygen mask on one of the dogs. This was the department's first time using one of the masks, which were donated by a local Girl Scout. The donation included masks in a range of sizes, including one for use on cats and other small pets.
"We keep them on the truck, and we've had them a couple years. This is actually the first chance we've had to use it," Aberdeen Fire & Rescue Battalion Chief, Stacy Vrchota said.
"A small dog was looking a little lethargic and tired after the fire. He tolerated the mask. It was a good outcome, Vrchota added.
The Markos don't know how much longer they will have their old friend with them, but they will never forget the night he saved them from a fire.
.
Watch KSFY's report on the story:
KSFY News – Sioux Falls, SD News, Weather, Sports
.