Investigators say a woman picked up a kitchen knife in a fit of rage and desperation to stop her husband from killing a cat she wanted to keep after it came to the couple's farm in need of a new home.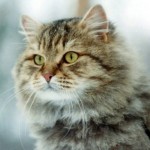 Russian news agency RIA Novosti reports today that a 56 year old woman in East Siberia's Buryatia republic is under investigation for allegedly killing her husband after he threatened the life of her cat.
Investigators said woman and her husband "drank alcohol together, and then started arguing over the cat, which had moved to their livestock farm in the republic's Zakamensky district after its owner from a nearby farm died."
According to the story, the woman wanted to keep the cat but the husband did not like it and kept trying to scare it away. During the argument, he picked up a rake with the intent of killing the cat.
"In a move to protect the animal, the woman seized the rake from his hands and then snatched a knife from the table in a fit of rage, and stabbed the man three times in the chest," a spokesman for the Investigative Committee said.
The woman may face up to 15 years in jail if convicted of murder, but the charge could be downgraded to manslaughter if she is determined to have acted in the heat of passion.
These are the only details on the incident and the case that are readily available at this time.
The case is reminiscent of that of the Texas woman who shot and wounded her husband last September after the man threatened to shoot her cat during an early morning argument. See  Texas Woman Shoots Husband to Protect Cat.
<via>