Animalkind cat rescue in Hudson, NY needs help, as their 120 shelter cats are displaced by serious water damage following a minor fire. The organization needs adopters, fosters, and cash donations as they scramble to keep things running smoothly.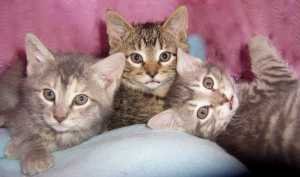 Animalkind is a cat welfare organization serving Colunbia and Greene counties from its operations center in Hudson, NY.  The organization provides help to low income pet owners, assists with spay/neuter services, conducts TNR, and, until Tuesday night, maintained a beautiful open-cage shelter at 721 Warren St. in Hudson.  A minor fire in a mattress in an apartment on a floor above the shelter space was quickly extinguished but triggered the building's sprinkler system, which caused serious damage to the shelter.
Animalkind staff, along with volunteers, were busy on Tuesday night and then again on Wednesday, removing the cats and serviceable equipment and supplies. Some cats are being housed temporarily at the Warren Inn, the local Humane Society has some, and others have gone home with volunteers. Animalkind will hold an adoption event in conjunction with PetSmart Charities at a local Greenport PetSmart this coming weekend, from Friday through Sunday, and hopes the community will come out and provide homes to as many of the displaced cats as possible.
"We have nowhere to go and no funds. We are in desperate NEED of locations,homes, foster homes and donations!! PLEASE HELP!!!!!!!!!!!!! DONATE NOW Any amount will help us save our organization. Please spread the word and adopt or foster!"
While the organization is looking for foster caregivers, food, litter, bedding and other supplies, they are in serious need of cash donations to help them meet the crisis and continue their operations. Those interested in helping out with cash donations can use this donation link, find the link at the Animalkind website, or call Katrine Hecker at 518-821-9615.
You can also find Animalkind on Facebook.
The videos below show Animalkind as a beautiful environment for cats in residence and awaiting adoption. It will take the efforts of the local and greater community to return things to normal after the unexpected  damage and displacement caused through no fault of the organization. The organization plans to look for a building to house the shelter temporarily, until their three floors of accommodations can (hopefully) be restored. The fire is thought to have been caused by a carelessly tended cigarette.
The following video report from Lance Wheeler  shows part of the rescue operation, as volunteers helped remove cats and equipment from the building, and includes an interview with Katrine Hecker and remarks by Ron Perez of Columbia Greene Humane Society .
Watch a beautiful video with footage of Animalkind from 2010, made by Kim Clune and her husband Tim. Kim and Tim visit Animalkind, visit with the cats, and adopt a pair of bonded orange tabbies.

Another, shorter video from 2009, showing the clean, attractive, peaceful and positive environment at Animalkind.